Alexander Spatari
It's pretty easy to tell if you're a morning person: Is the only thing getting you into bed at night the promise of breakfast the next morning? Do you love the word "brunch" so much that you use it as a verb whenever possible? Have you ever in your life met a mimosa that you didn't like? If you said yes to any of these pressing questions, you're really into breakfast. But let's say that with a little age and experience, you're less into Cheerios, bacon, and eggs and more interested in hearing about plant-based options. Check out these sweet, savory, and satisfying vegan recipes that are sure to make you rise and shine.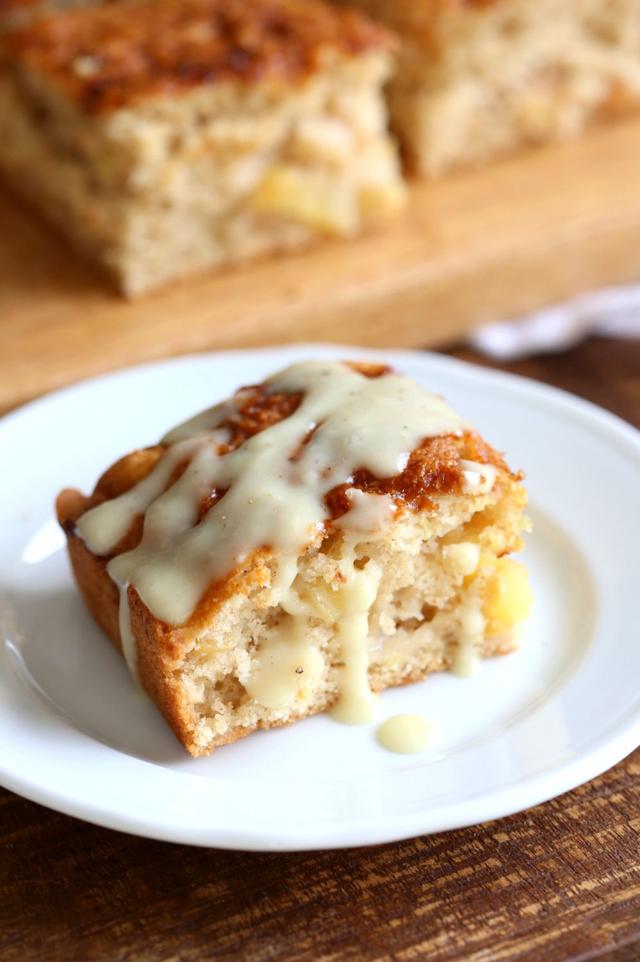 Vegan Richa
Vegan Apple Cake with Cinnamon Custard
Who doesn't love cake for breakfast? When regular coffee cake won't do, try this vegan, gluten-free cake. It's lightly sweetened and loaded with chopped apple.
Get the recipe at Vegan Richa.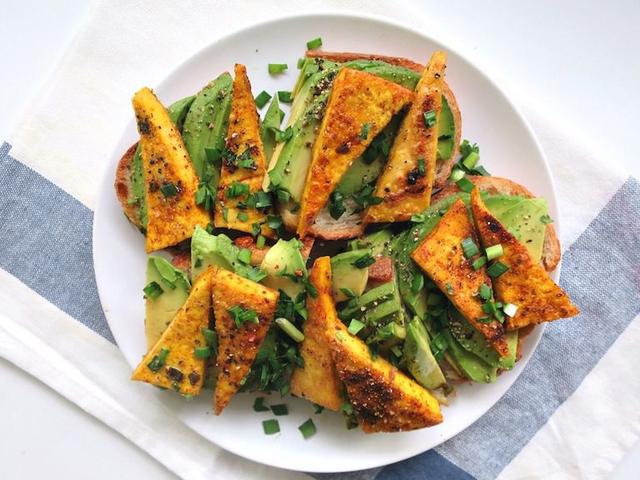 Radiant Rachels
Vegan Avocado-Tofu Toast
Eat up the avocado-toast trend with this delicious take that incorporates tofu, turmeric, and chives.
Get the recipe at Radiant Rachels.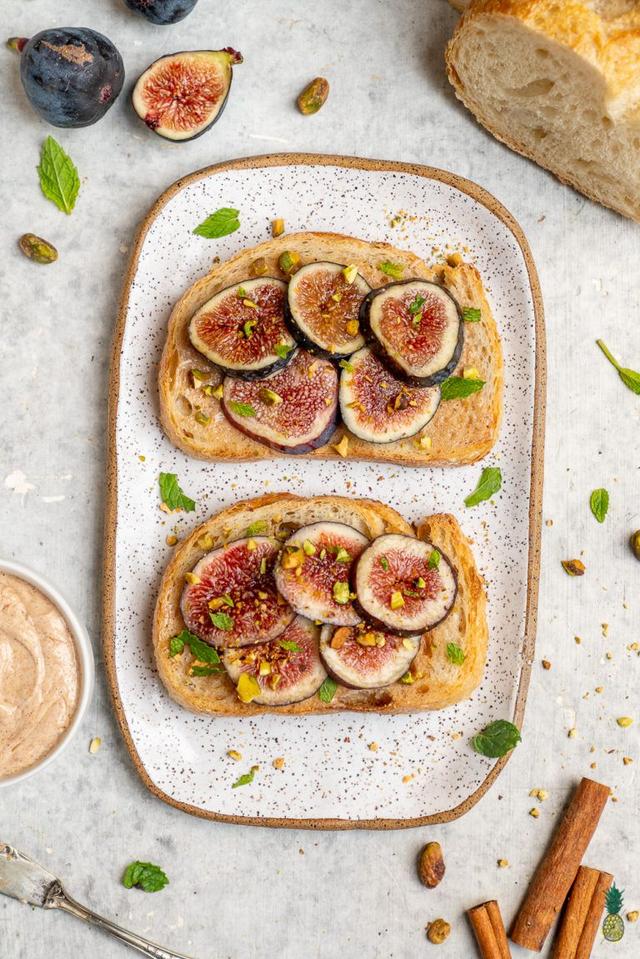 Sweet Simple Vegan
Vegan Cinnamon Butter and Fig Toast
Top your toast with a plant-based butter spread spiced with cinnamon, vanilla, cardamon, and a mix of sliced figs, pistachios, and fresh mint.
Get the recipe at Sweet Simple Vegan.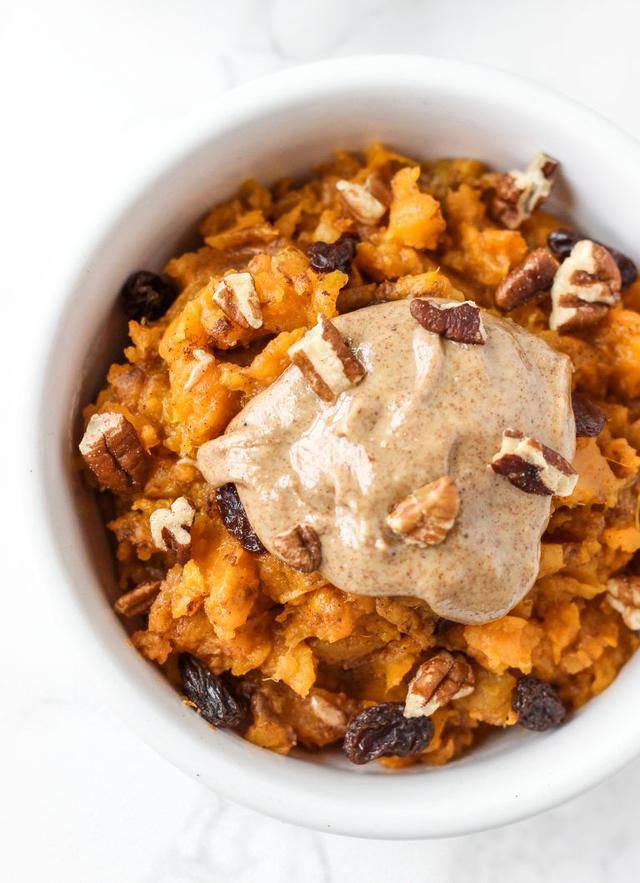 Healthy Liv
Sweet Potato Breakfast Bowl
When you're not feeling oatmeal for breakfast, replace it with a tasty mix of roasted and mashed sweet potatoes, nuts, raisins, and almond butter.
Get the recipe at Healthy Liv.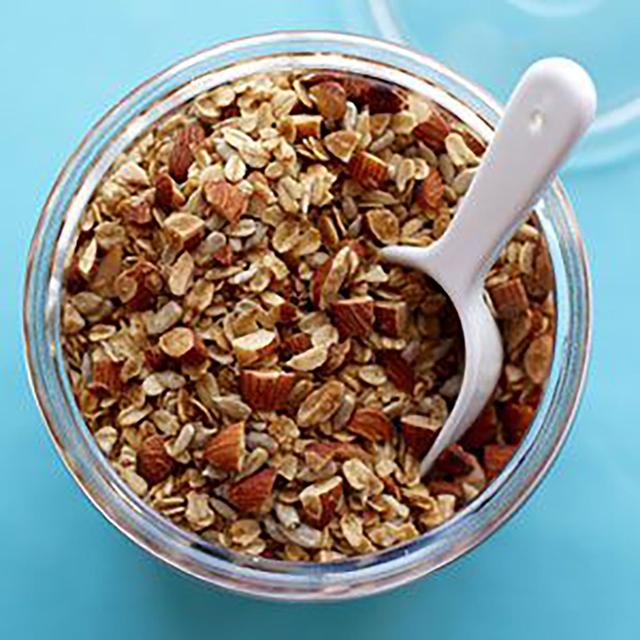 Con Poulos
Crunchy Vegan Almond Granola
Fuel up for whatever the day brings with a morning meal of homemade granola paired with nut milk and topped with sliced fruit.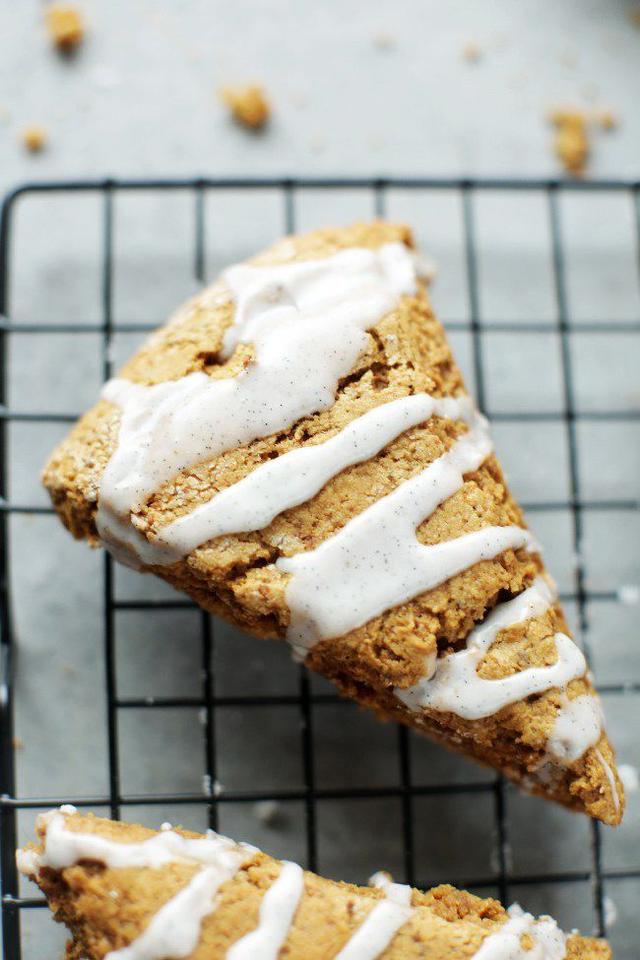 Nutritional Foodie
Vegan Gingerbread Scones with Vanilla Bean Glaze
When you want a sweet morning treat, try these flavorful scones, bound with a flax egg (just simple flax seed meal and water!), spiced with ginger, cinnamon, and cloves, then drizzled with an almond milk glaze.
Get the recipe at Nutritional Foodie.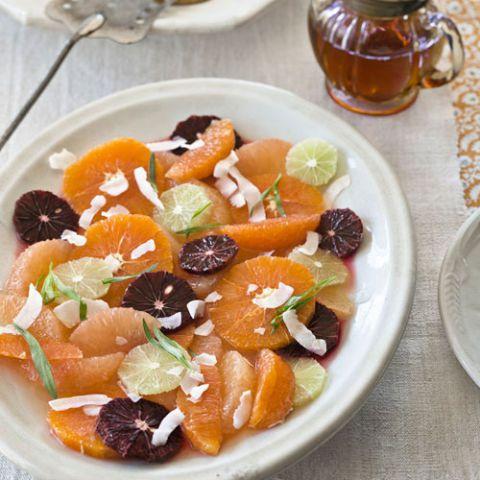 Quentin Bacon
Vegan Maple-Citrus Salad with Coconut
This refreshing sweet-and-tart fruit salad is delicious on its own or served over oatmeal or vegan yogurt. And if you're whipping it up in the summer, substitute summer berries and stone fruit for the citrus.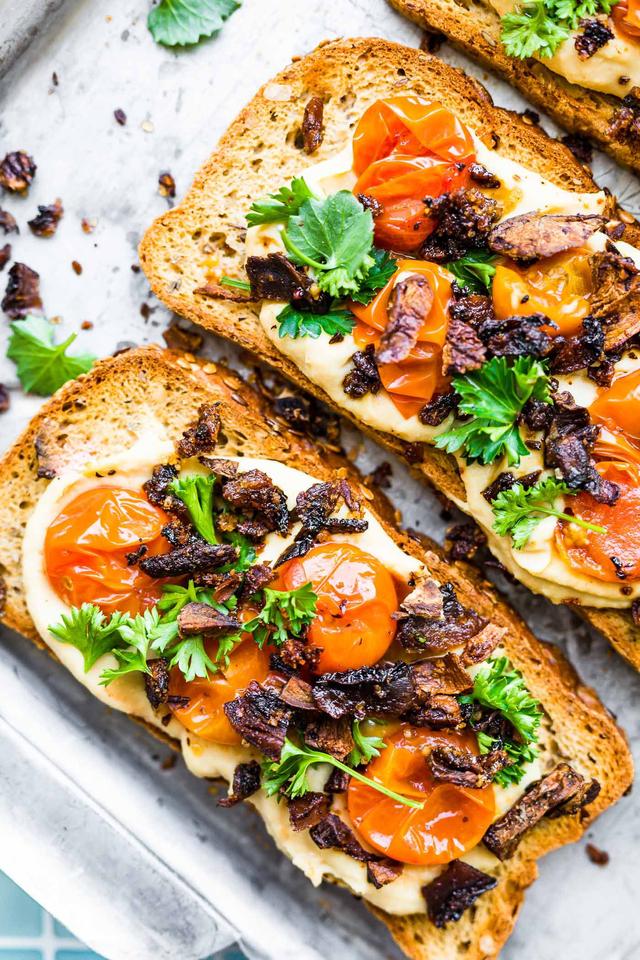 Cotter Crunch
Vegan Mushroom "Bacon" Breakfast Toast
Looking to wake up with a burst of protein and fiber? Try this umami-flavored spread of oven-roasted mushrooms, warm cherry tomatoes, and creamy hummus on your toast.
Get the recipe at Cotter Crunch.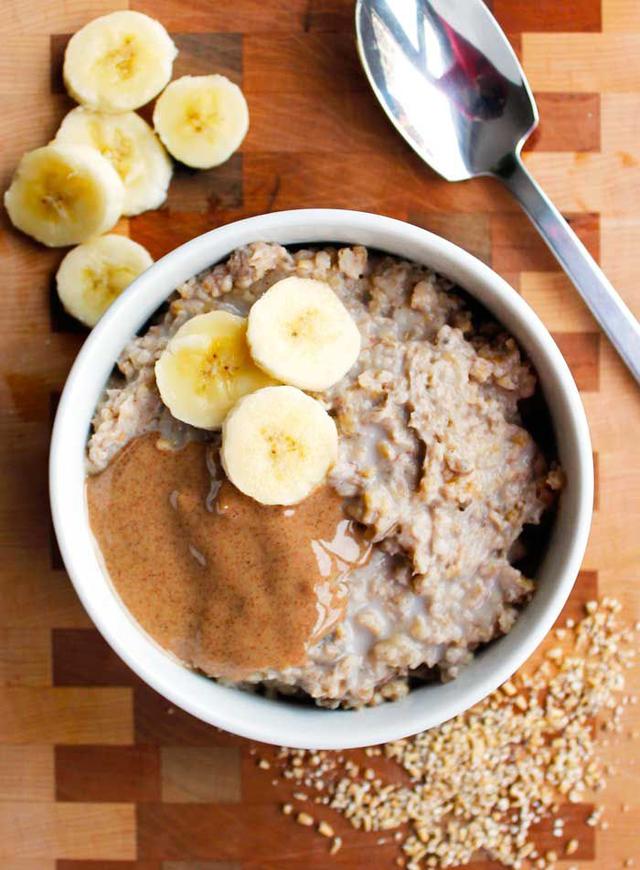 Smile Sandwich
Vegan Peanut Butter-Banana Slow Cooker Oatmeal
Devote your slow cooker to overnight duty, and you'll have a warm, filling, and delicious steel-cut oatmeal blend ready and waiting when you wake up in the morning.
Get the recipe at Smile Sandwich.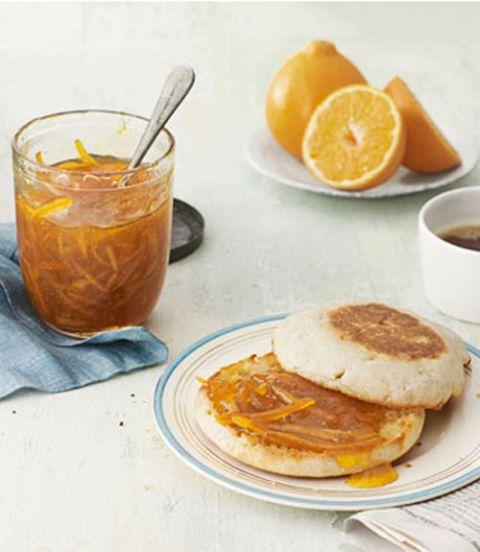 Andrew Purcell
Vegan Quick Tangelo Marmalade
In a mere 30 minutes, you can whip up this fruity marmalade and have it on hand for breakfast all week. Our recommendation: Serve it on toast or an English Muffin with a smear of peanut butter or vegan cream cheese.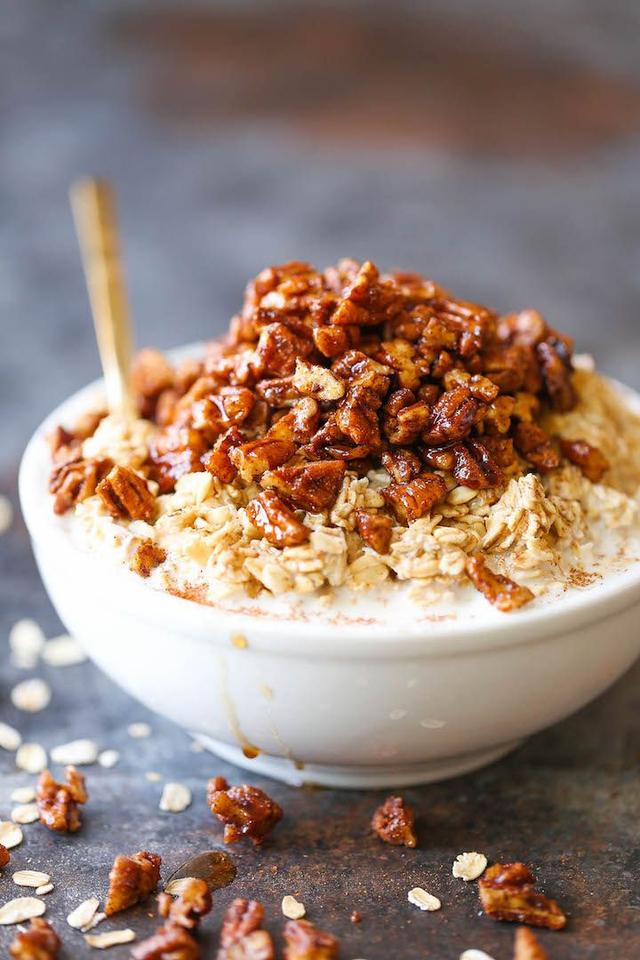 Damn Delicious
Vegan Pecan Pie Overnight Oats
Enjoy the sweetness of pecan pie without all the guilt thanks to a bowl of easy overnight oats topped with a generous helping of sweetened chopped pecans.
Get the recipe at Damn Delicious.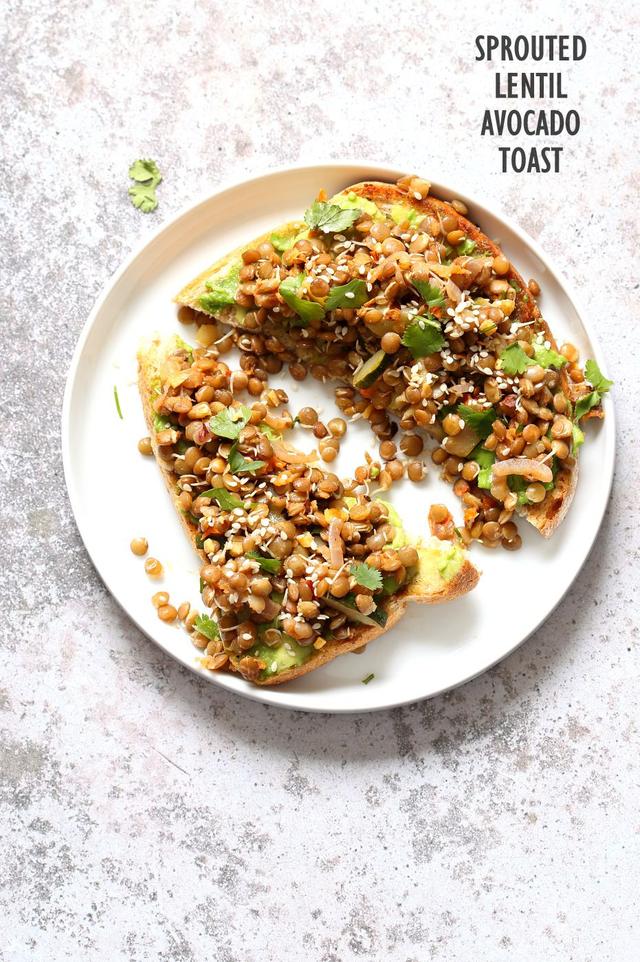 Vegan Richa
Vegan Sprouted Lentil and Avocado Toast
You'll be the picture of health after eating sprouted lentils sauteed with aromatics, ginger, and spices on top of mashed avocado toast.
Get the recipe at Vegan Richa.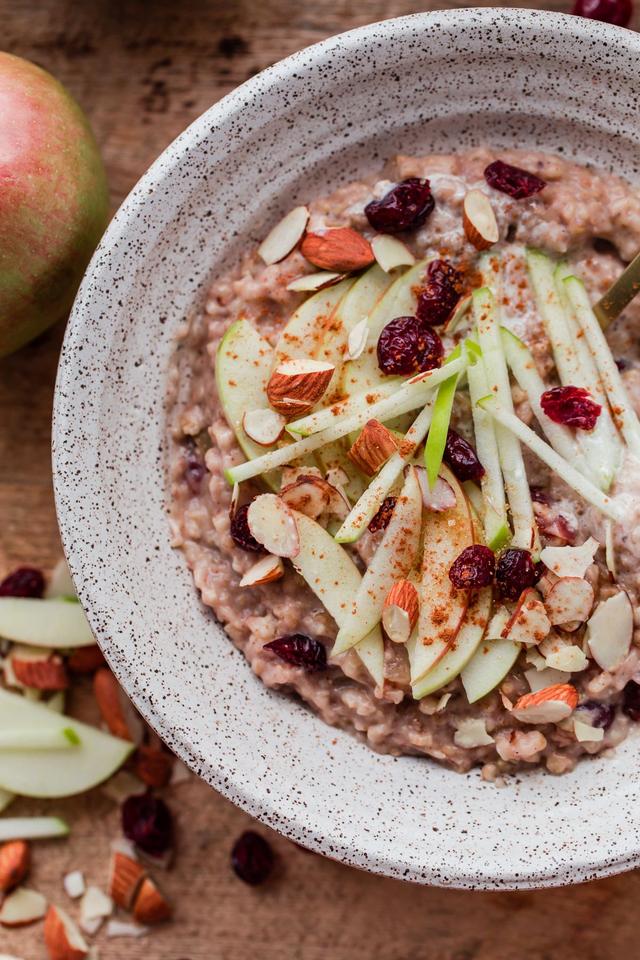 A Beautiful Plate
Vegan Steel-Cut Oats with Apple and Cranberries
Whether you're going to run a marathon or just have an action-packed day, this breakfast of spiced oatmeal loaded with fruit (both cooked and uncooked) and spices will have you winning the day.
Get the recipe at A Beautiful Plate.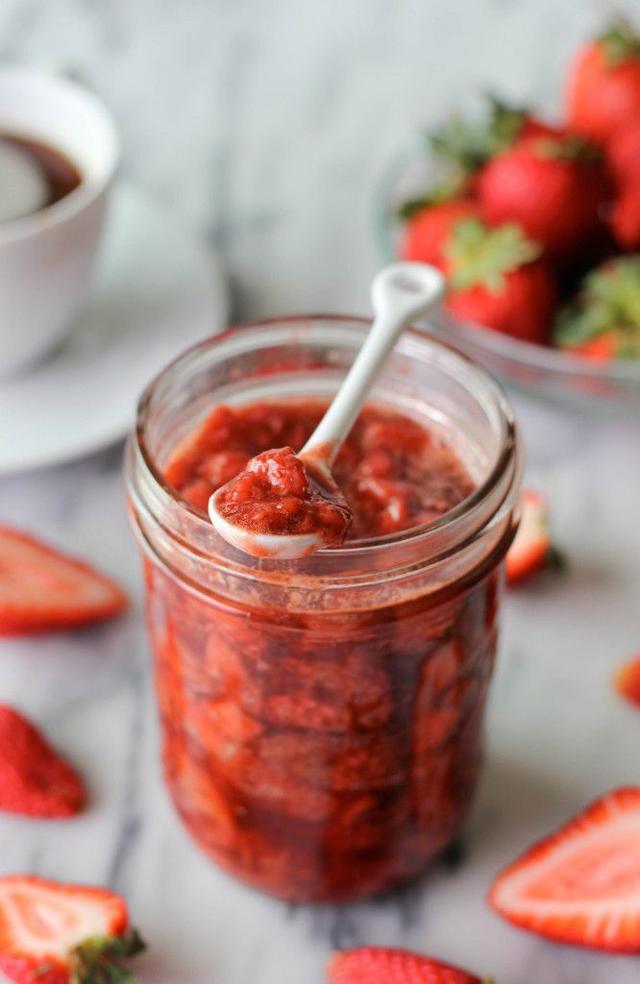 Damn Delicious
Vegan Strawberry-Balsamic Jam
So long, sad plain toast. This low-sugar strawberry jam will add a much-needed kick to the bread. For a little something extra, top with fresh sliced strawberries.
Get the recipe at Damn Delicious.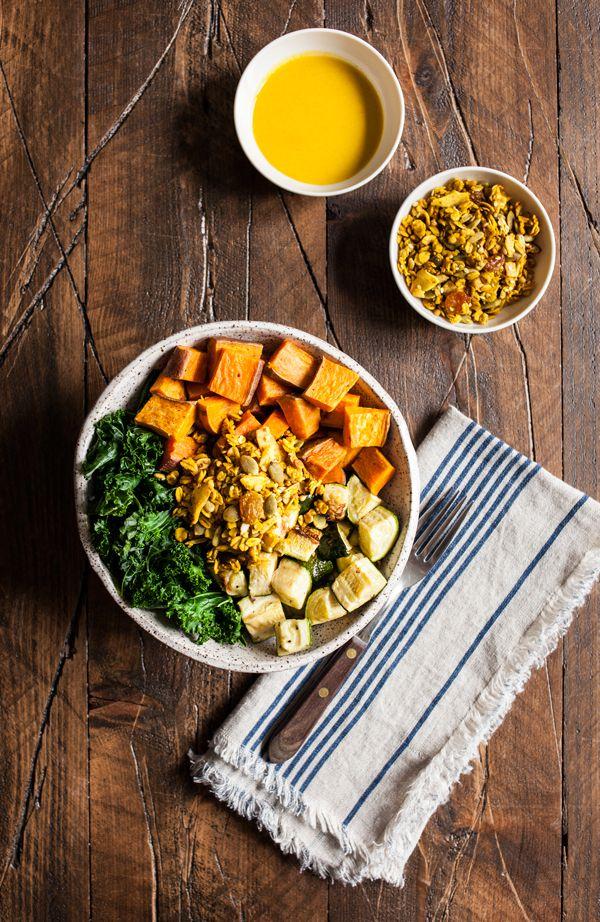 The Full Helping
Vegan Sweet Potato Breakfast Bowl with Savory Granola
If you were the kid who never had to be told to eat her vegetables, have we got the breakfast for you! Roasted sweet potatoes and zucchini are served alongside steamed kale, topped with a crunchy spiced granola and tahini dressing.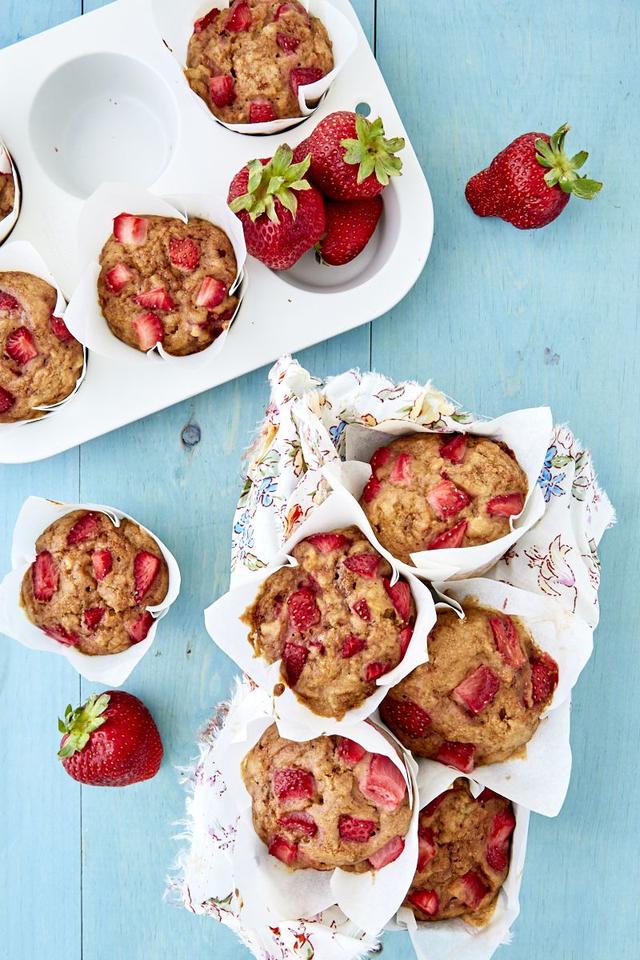 Keepin' It Kind
Vegan Strawberry-Banana Muffins
Whip up a batch of these gluten-free, vegan, strawberry-and-banana muffins on Sunday night and have ready-made breakfasts (and snacks) for the week ahead.
Get the recipe at Keepin' It Kind.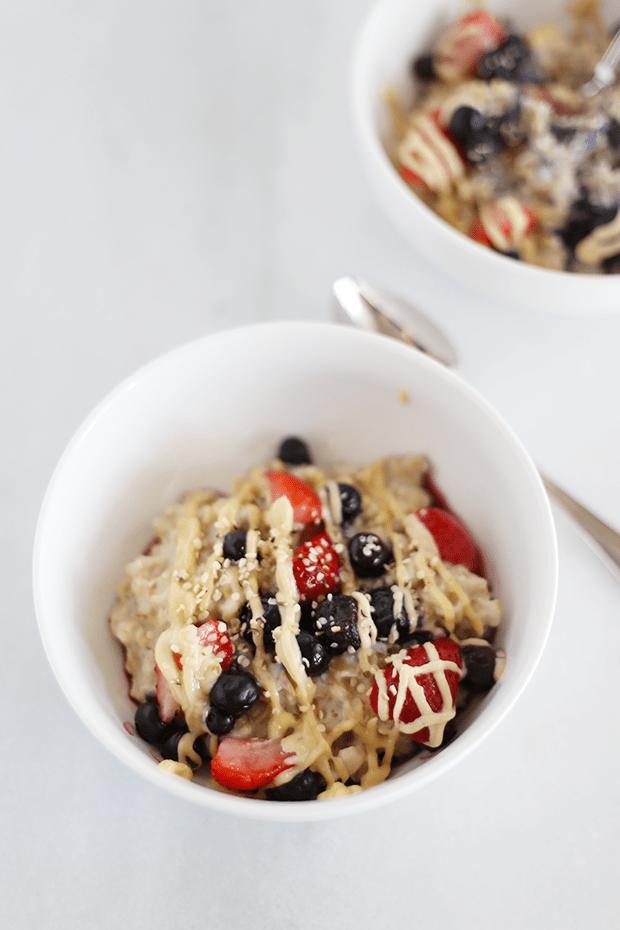 Two Raspberries
Vegan Tahni and Maple Oatmeal
Combine sweet and savory in a tasty dish that combines high-fiber rolled oats with fruit, a drizzle of tahini and maple syrup, and a smattering of hemp seeds.
Get the recipe at Two Raspberries.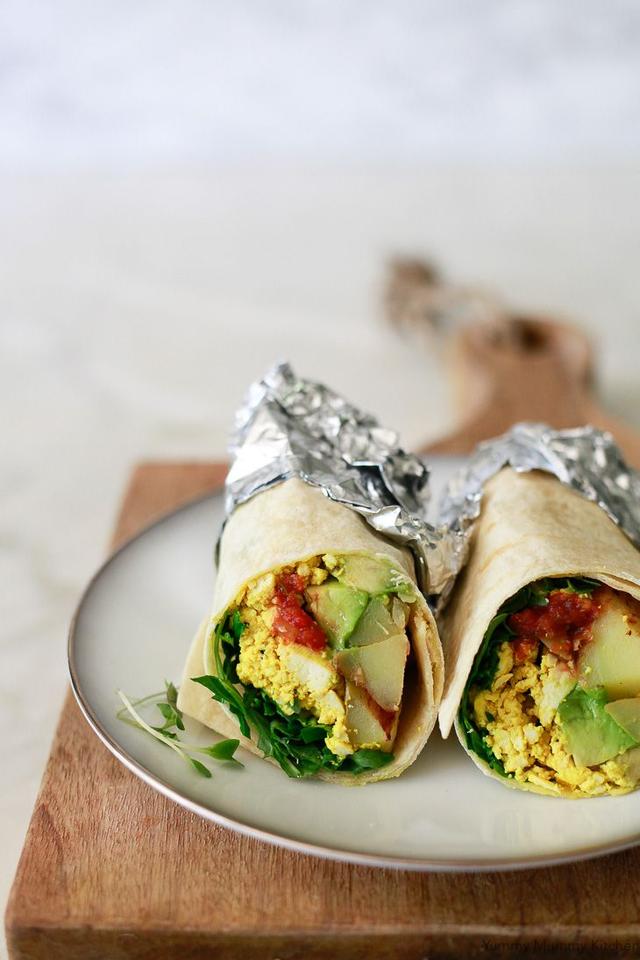 Yummy Mummy Kitchen
Vegan Potato-and-Tofu Breakfast Burrito
There's no better breakfast on-the-go than a burrito. Keep your tortilla treat on the healthy side with a filling of tofu, potatoes, leafy vegetables, and sliced avocado.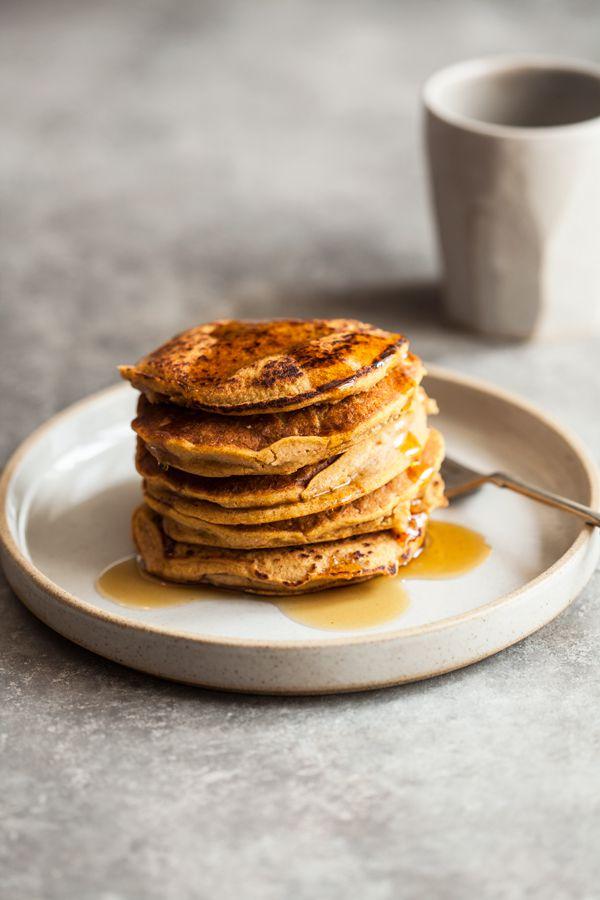 The Full Helping
Vegan Millet-and-Sweet Potato Pancakes
Just try to resist a not-so-short stack of these gluten-free, vegan sweet potato-and-millet pancakes. Serve them with a drizzle of pure maple syrup, a dollop of vegan yogurt, and a sprinkle of toasted chopped nuts.
Get the recipe at The Full Helping.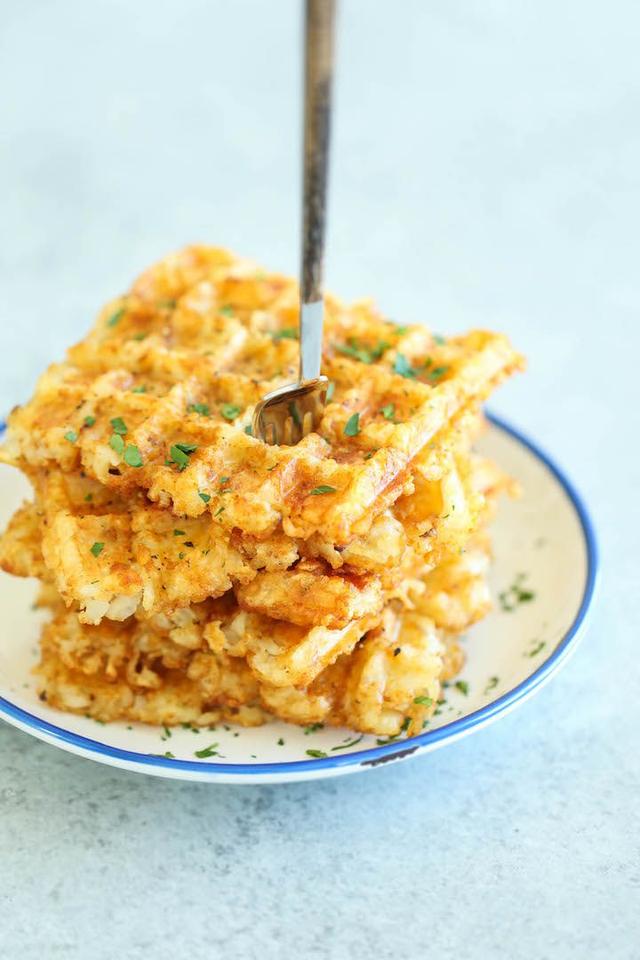 Damn Delicious
Vegan Tator Tot Waffles
Is there anyone in the world who doesn't like tater tots? To make this fun dish, simply line a waffle iron with tater tots, and voilà! A vegan breakfast the whole family will love. Serve with tomato jam and vegan sour cream.
Get the recipe at Damn Delicious.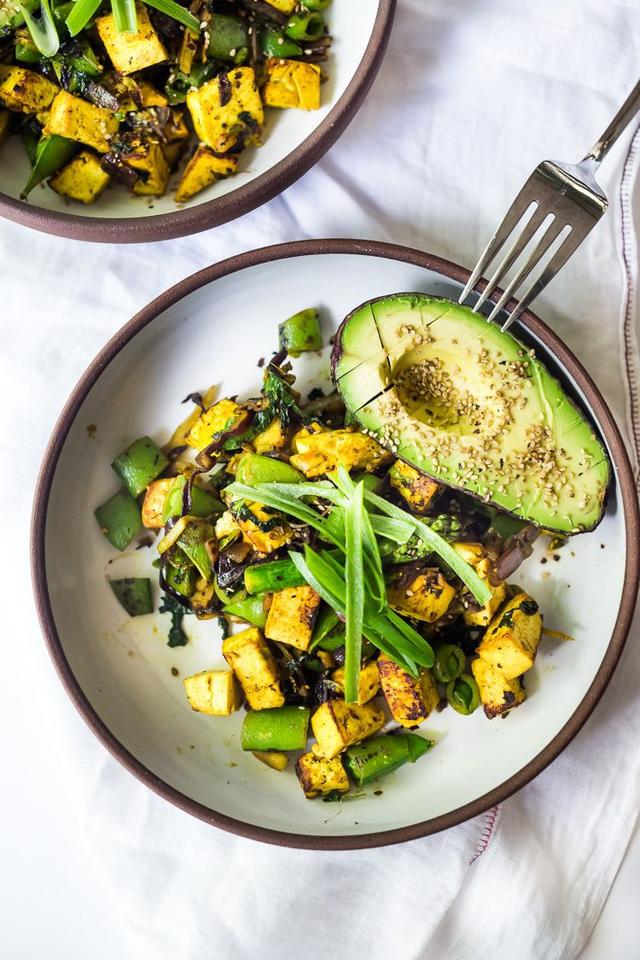 Feasting At Home
Vegan Vegetable-and-Tofu Scramble
A mix of vegetables (think asparagus, snap peas, celery, and cabbage) and firm tofu get seasoned with soy sauce in this savory breakfast dish.
Get the recipe at Feasting at Home.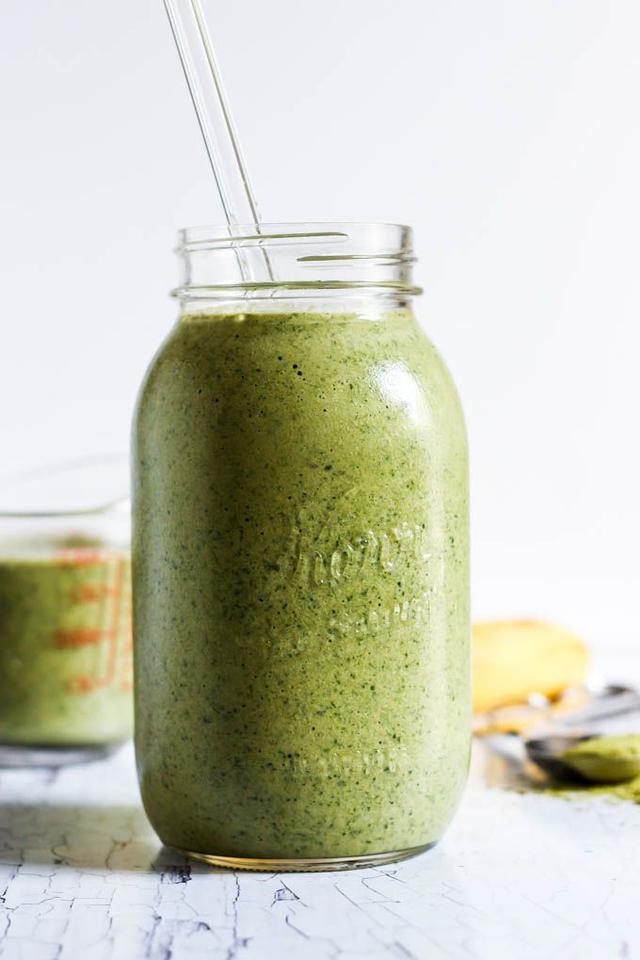 emilie eats
Vegan Banana, Matcha, and Green Tea Smoothie
You can enjoy this super-healthy, veggie-packed (spinach and zucchini!), protein-rich rich smoothie at your desk or on the go!
Get the recipe at Emilie Eats.