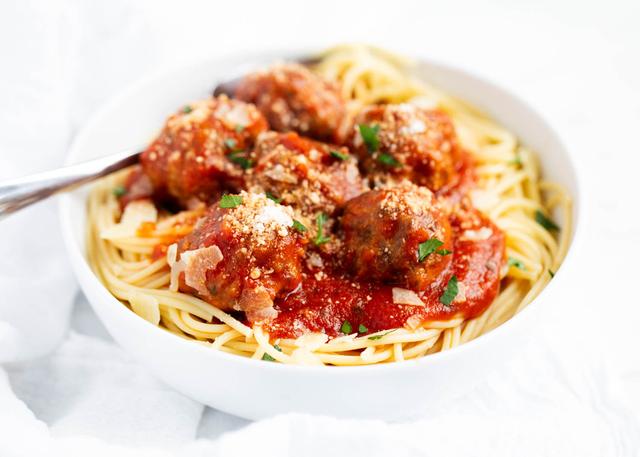 Italian meatball recipe
These baked meatballs are always on our monthly rotation. Spaghetti and meatballs are one of my kid's favorite dinners…they request them almost every week. And because these meatballs are so easy to make and super flavorful, I have no problem with that! They are even perfect for meatball subs or appetizers like meatball sliders.
I love that these Italian meatballs bake in the oven…it makes them so simple to whip up and keeps the meatballs juicy. Once they cook in the oven, all you have to do is simmer them for a couple of minutes with marinara sauce while you boil your spaghetti noodles. In just 30 minutes or so, you'll have a delicious, homemade dinner in no time!
This spaghetti and meatballs recipe tastes amazing when served with garlic rolls or bread. Sometimes I'll even make my own homemade tomato sauce if I have some fresh tomatoes on hand. Such a class dish that never gets old!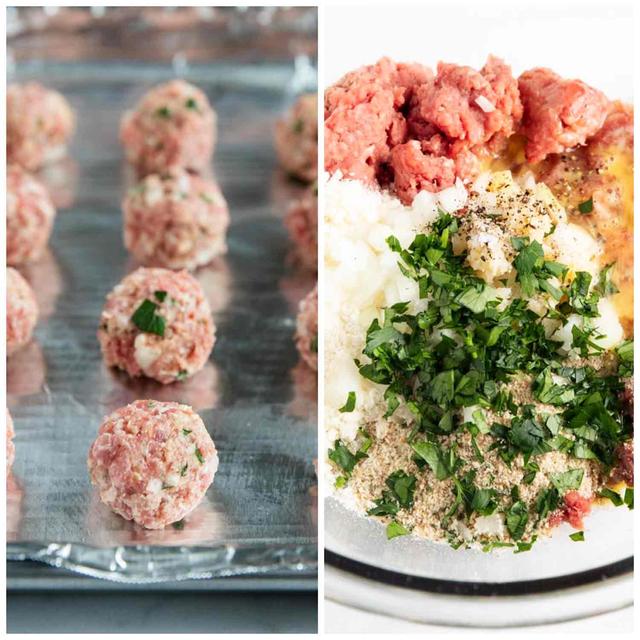 What are the ingredients to make meatballs?
To make these Italian meatballs, you'll need the simple ingredients below. The parsley is optional, however I highly recommend adding it in if you're making the classic spaghetti and meatballs recipe. It adds tons of extra flavor. If you're serving these meatballs with a sweet and sour sauce or making my crockpot meatballs, I recommend leaving it out.
Ground beef
Egg
Breadcrumbs
Parmesan cheese
Onion
Garlic
Salt
Pepper
Parsley (optional)
How do you make Italian meatballs?
Scroll down for the printable meatball recipe.
Preheat oven to 400°F and spray a foil-lined baking sheet with non-stick spray.
Combine all ingredients in a bowl and stir until combined. If needed, add a Tablespoon of water to keep mixture wet.
Scoop the meat from the bowl and form into 1 1/2″ balls. Then place meatballs on baking sheet.
Bake meatballs uncovered for 17-20 minutes, or until middle is no longer pink. Flip halfway through.
If desired, simmer meatballs with marinara sauce for 10 minutes and serve over noodles.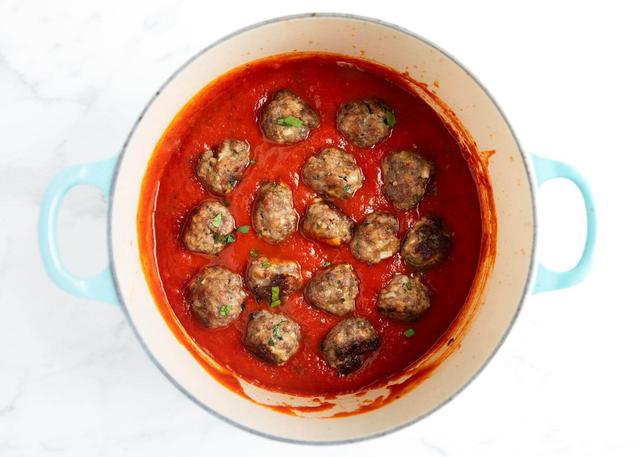 Tips for making baked meatball recipe
Don't over mix! Over-mixing can make the meat tough.
Use a cookie scoop (an ice cream scoop works too) to make the meatballs equal in size. This will ensure they all cook the same.
If your meatball mixture is too dry when combining, add a Tablespoon of water to keep it wet.
Make sure to flip the meatballs halfway through so that the bottoms don't burn!
If you don't have fresh garlic or onion on hand, sub with garlic and onion powder.
Meatballs to keep their shape. If you don't have breadcrumbs in your pantry, almond flour will work too.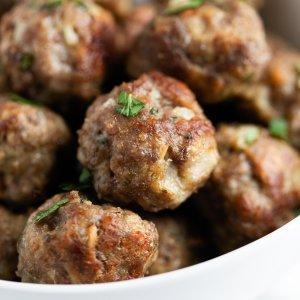 Easy Meatball Recipe
Course: Main Dish
Cuisine: American
Keyword: meatballs
Prep Time: 15 minutes
Cook Time: 20 minutes
Total Time: 35 minutes
Servings: 6
Calories: 114kcal
Author: Jamielyn
These are the best oven baked meatballs! So easy to make, juicy and flavorful. They're perfect for appetizers, meatballs subs or on top of spaghetti.
Ingredients
1 pound lean ground beef (could sub with half ground pork)
1 large egg (beaten)
1/4 cup breadcrumbs
1/4 cup grated parmesan cheese
1/4 cup finely chopped onion
2 teaspoons minced garlic
3/4 teaspoon kosher salt
1/4 teaspoon black pepper
2 Tablespoons Chopped fresh Italian Flat leaf parsley (optional)
For serving: Marinara and cooked noodles , optional
Instructions
Preheat the oven to 400°F. Line a baking sheet with foil and spray with non-stick spray.

Combine the meat, egg, breadcrumbs, cheese, salt, garlic powder, onion powder, black pepper and parsley in a bowl. Stir just until combined, do not over mix. Add a Tablespoon or two of water as needed to keep a wet mixture.

Use a medium cookie scoop or spoon to scoop the meat. Then form into 1 1/2" balls and place on the pan.

Bake uncovered for 17-20 minutes, or until no longer pink in the middle. Turn halfway through, so the bottoms don't brown.

Simmer meatballs with marinara sauce for 10 minutes and serve over noodles if desired.
Enjoy!