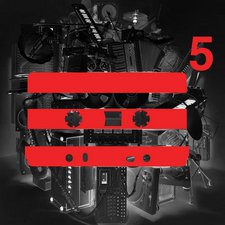 Deepspace5
The Blueprint 3 Outtakes 
Jay-Z's  album, The Blueprint 3, was one of 2009's most successful mainstream releases. During its pre-production stages, freelance producer/beatmaker Alex Goose composed some tracks that that he submitted to Jay-Z in hopes that he would use them on The Blueprint 3. Unfortunately for Goose, none of his beats made the cut, despite their quality and the fact that they sounded like beats you would hear on a Jay-Z album. But Goose was so proud of these beats that he had to share them, and he released them as a free download on his website for anyone who wanted them. This is where Deepspace5 comes in. While working on The Future Ain't What It Used To Be, they took time off, got Goose's tracks (which he titled The Blueprint 3 Outtakes), and composed thirteen fabulous hip hop tracks.
DS5's version of The Blueprint 3 Outtakes (which keep the same title) features five of the seven emcees in the group (there's no Listener or Sev Statik on this mixtape). Despite the release being so out-of-nowhere and having no record label backing, it's still as high quality of an album as DS5 fans have come to expect. Fred B is at the top of his game in "We In Here" and "Goose Needs This" (originally titled "Hova Needs This" on Goose's mixtape). sintax.the.terrific gets his own track on the low-key "Dear Daisy," and the similarly-titled "Dear Winter" gets the similar, one-emcee treatment with the similar-sounding manCHILD, getting a minute to himself. Sivion leads off the thumping beats of "No One Rides For Free," rapping about the free gift of "grace and eternity," while also tearing up the opening track "We In Here."
Playdough and manCHILD are featured most prominently in this mixtape, both appearing on nearly every track. What's interesting is that, while each of the emcees have their own flow style, and they do their own thing here as well, Playdough and manCHILD change theirs up a little. It's definitely due to the beats, which don't really reflect most (or any) of what you'd hear on their own albums. And they both do a great job adapting. Playdough's style seems to have changed the most. The mixtape highlight "Goose Needs This" showcases his usual sound (reminding me a little of his solo track "Don't Drink The Water"), but "Check Me Out Now" has him doing more of a gangsta sound, and his verse in "Brakes" makes his sound comparable to Jay-Z (appropriately enough).
You know you can always count on Deepspace5 to produce a fantastic album. Goose's beats were fresh and clean by themselves, and adding DS5's verses only made them better.  Read More Here