The pineapple is more than just a fruit: it's also the name of a popular method used to preserve curly styles while you sleep. The method involves gathering your hair into a loose high ponytail that resembles a pineapple, which is how the style got its name. The pineapple itself is easy to do and it can even be dressed up and worn as its own style, which makes it easy to go from day to night (and night to day). Whether you're wearing a wash n go, a rod set, or a twist out, the pineapple method is a great way to style and preserve your curls.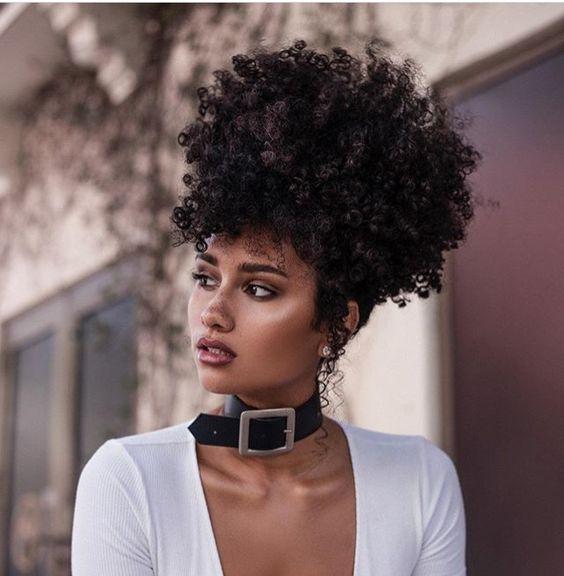 How To Pineapple your hair
Putting your hair into a pineapple is a relatively easy process. Start by gently smoothing and gathering your hair into a loose ponytail at the top of your head. Bending forward will make this process easier. Secure your hair with a ponytail holder or scarf and voila! You're done. If you're using a scarf, there are a few different ways you can tie it. Some people choose to leave out some bangs, while others tie the scarf at the hairline. You can also use a scarf or an old pair of pantyhose as a ponytail holder by tying it around your hair at the crown of the head. This will give you the ability to loosen or tighten the ponytail as needed. If you're going to bed, make sure your hair is covered with a satin scarf or sleep on a silk or satin pillowcase if you prefer.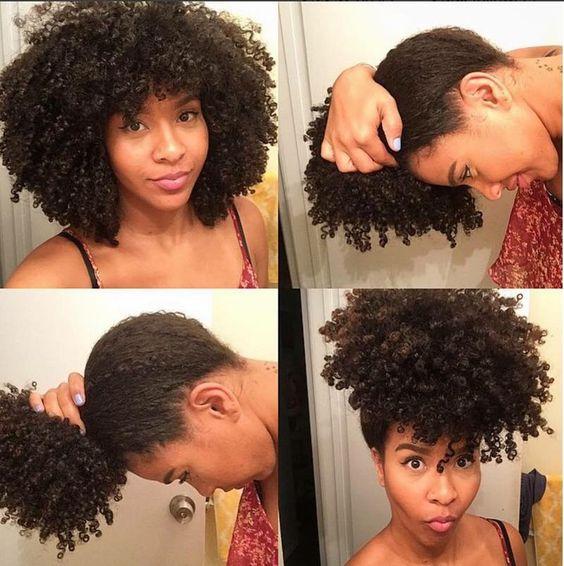 Pineapple hair – How It Works
The pineapple method is effective because it keeps your curls in an upright direction overnight, which helps keep them intact and prevents them from being crushed while you sleep. The added protection of a scarf tied around the hair also helps you avoid frizz. While covering your hair with a satin bonnet can be a good method for preserving curls on short hair, the pineapple method works best on medium length and long hair. It's generally more effective because longer curls can get crushed and tangled together inside of an average-sized bonnet (oversized bonnets do exist, but they are usually harder to find). Even if you cover your hair with a scarf, it doesn't hurt to also sleep on a silk or satin pillowcase just in case your pineapple starts to come undone while you sleep.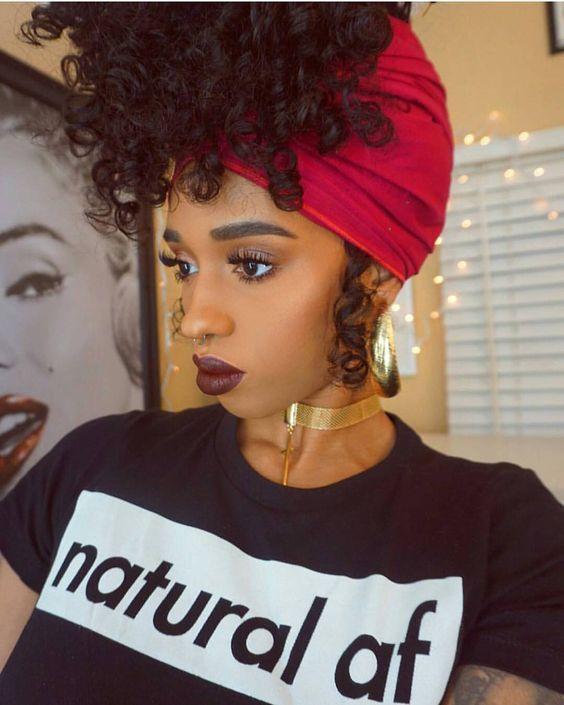 Multi-Pineapple Method
If you have short or medium length hair, the traditional pineapple might not be the best option because it can stretch your curls too much. But that doesn't mean you can't wear it. You can easily modify the pineapple method by splitting the hair into two or more "mini pineapples." While the multi pineapple method isn't a great style to wear out, it is a good way to preserve your hair overnight, eliminating the need to reset your style before you go to bed. Be sure to use ouchless ponytail holders to prevent snagging. Satin scrunchies are an even better choice because they are more gentle on the hair. Cover your hair with a large satin bonnet or scarf and in the morning, gently let the ponytails loose and carefully finger style your hair to your liking.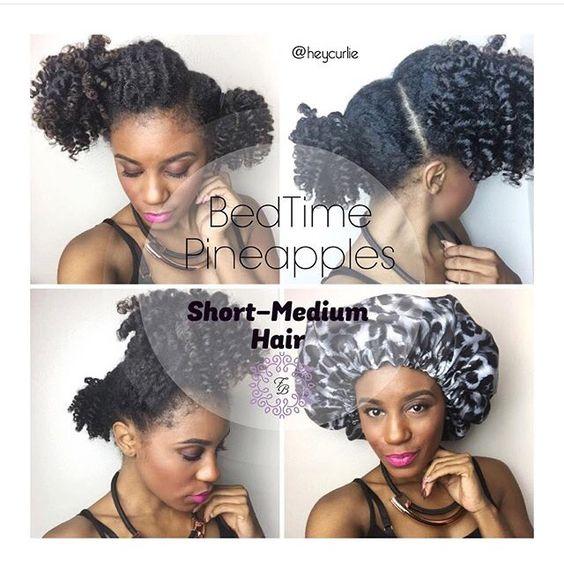 The Pineapple As A Style
The pineapple is a fun style that's easy to create. It's also a great go-to style when you're short on styling time or if you need to postpone your next wash day. It only takes a couple minutes to do and it's surprisingly versatile, allowing you to customize it to fit your personality and mood. Head wraps are a great way to give the pineapple a more regal appearance. The pineapple is also a great low-manipulation hairstyle that can help prevent breakage caused by too much handling and styling. Just be sure not to make your pineapple too tight, as it can put too much tension on the hair, particularly along the hairline. The pineapple is also a great way to style your hair when you're working out because it keeps your hair out of your face and off your shoulders. It's the perfect go-to hairstyle for hot days and trips to the beach. Here are 25 ways to wear a pineapple style.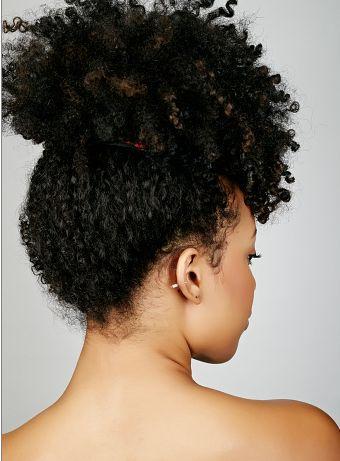 Pineapple Hair With Headband
This pineapple style is created by smoothing and brushing the hair up into a high puff and accessorizing with a headband. You can dampen the hair with water and use a styling gel to get this sleek look.
Flat Twist Pineapple Hairstyle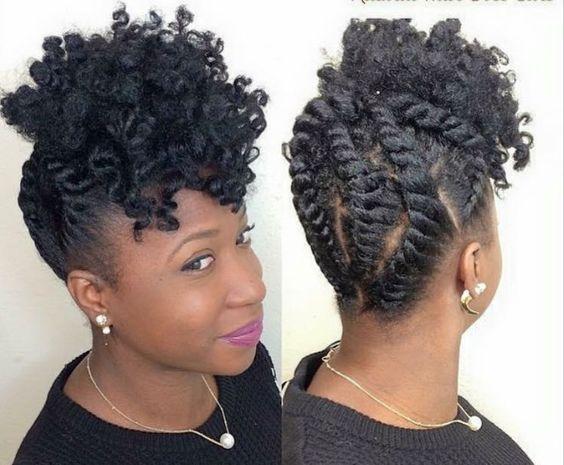 This cute pineapple style is created by flat twisting the hair up the back of the head. Unravel the ends of the twists and bobby pin the curls into place.
Sleek Pineapple hairstyle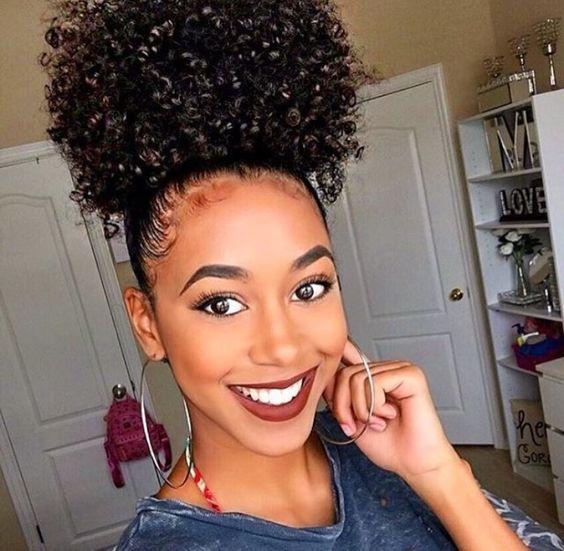 This classic pineapple style is created by slicking the hair up into a cute, curly puff. This is a great look that's perfect for any occasion.
Sky High Pineapple Puff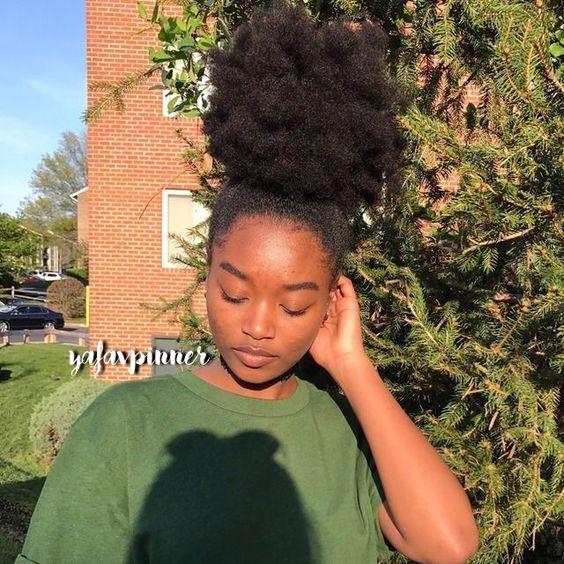 Reach new heights and defy gravity with a gorgeous pineapple puff like this one. This is a great way to bring an old style back to life.
Wash N Go Pineapple hair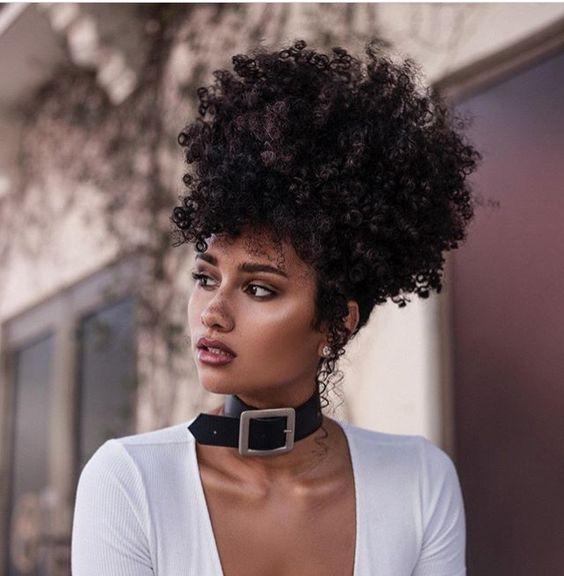 This pretty pineapple is a great way to style your wash n go. Use a scarf or a pair of pantyhose to give your pineapple a looser look and feel.
Pineapple Puff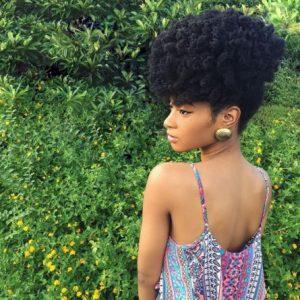 This gorgeous style is perfect for ladies with thick hair. Tying your puff with a scarf will allow you to fluff and shape your hair, giving your pineapple more volume.
Loose Fluffy Pineapple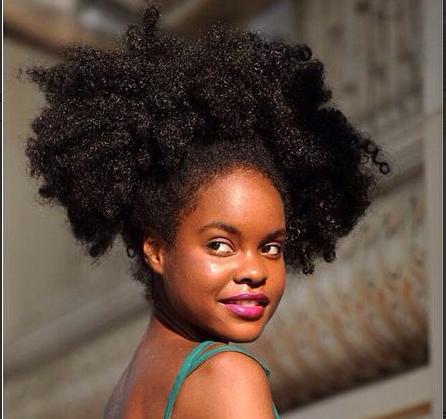 This loosely-tied pineapple has a cute, carefree look. This is an easy way to style your hair if you're going to the gym or just want to quickly tie it up.
Purple Pineapple With Bangs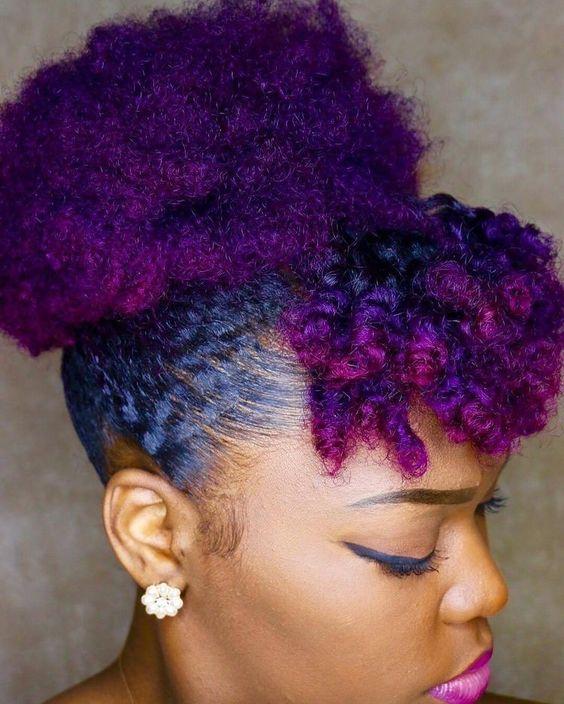 For this style, the hair is pulled up into a high puff with bangs left out: a perfect style to show off this gorgeous purple color.
Locs Pineapple hairstyle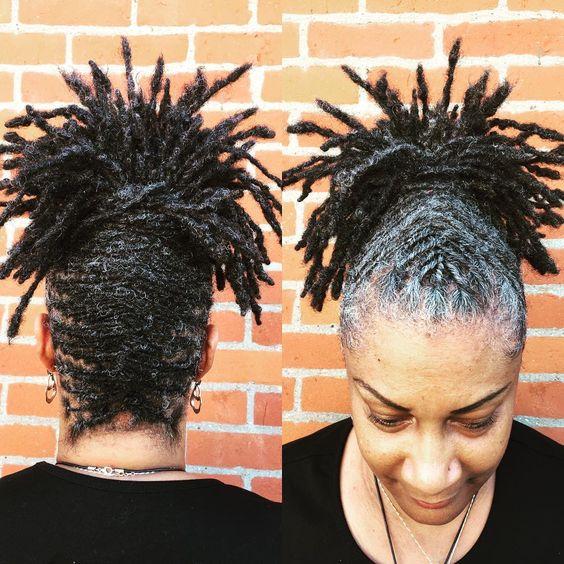 The pineapple is not just reserved for curly styles. This beautiful pineapple style is created by twisting and interweaving the locs towards the center of the head.
Pineapple With Head Scarf
Head scarfs are a great way to accessorize and help style a pineapple. This look is easily created by tying the scarf at the front of your head.
Double Pineapple Curls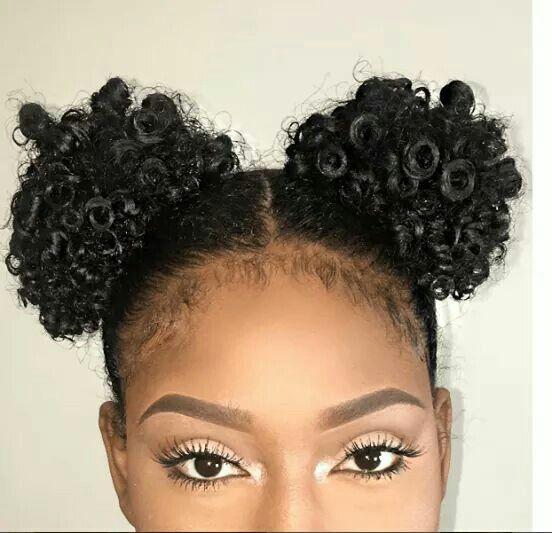 This adorable double pineapple style is perfect for shorter lengths. Just part the hair down the middle and pull the hair into two curly puffs.
Pineapple With Head Wrap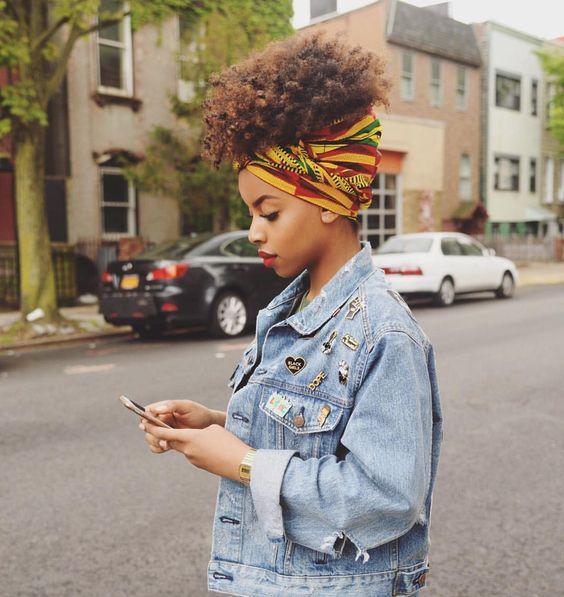 A beautiful Ankara head wrap can be a great addition to your pineapple style, creating a look that can be dressed up or down.
Braided Pineapple curl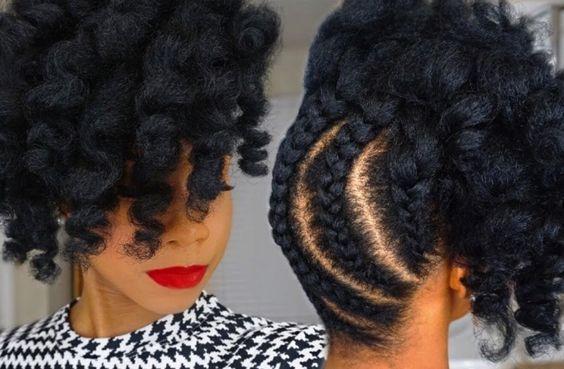 Pineapple With Curly Tendrils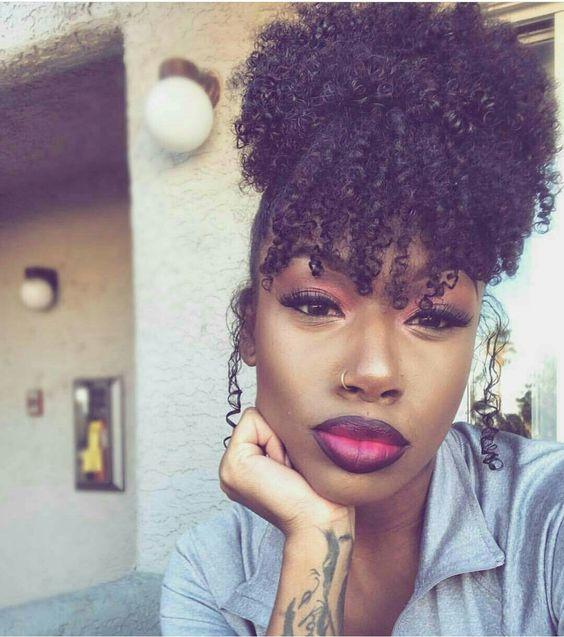 This pineapple is styled to create the illusion of bangs. The face is framed by two curly tendrils that are left out on each side of the head.