You know you're having a night when this one's falling for you: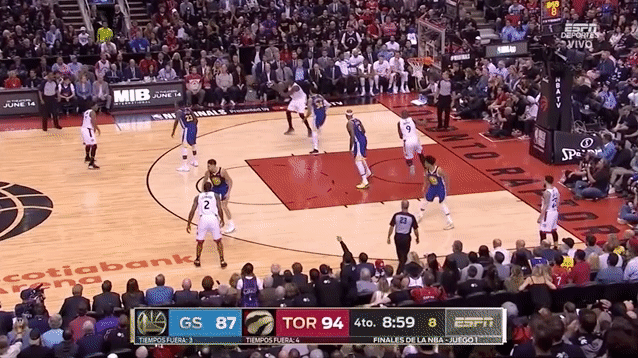 That's Pascal Siakam, off the dribble, with five on the clock, driving to the paint and finishing a right-handed sky-hook behind his head and over two defenders, one of them the seven-foot high-rise DeMarcus Cousins, for his 29th and 30th points of the night.
Thirty as in three-zero. Tying the playoff career-high he set a month ago. In the first-ever game for both himself and the Toronto Raptors in an NBA Finals. In his third year in the league, his first year as an offensive focal point, and his ninth year playing competitive basketball, a well-known and borderline unimaginable fact that nonetheless can't be cited enough. It was a scene.
"Man, you know, I knew he was good. But this good is like — he's out of control, no?" said Serge Ibaka, shaking his head in the Raptors locker room after the game. "Like, tonight, man — that boy was on fire. First NBA Final game. And he scored 30-plus? That's amazing man. That's amazing."
He just keeps reaching new heights. Siakam was having a break-out season half a year ago, when he went into Christmas averaging 15 points, six rebounds, and three assists while playing 30 minutes a night. And that was before he torched Atlanta for 33 in February. Before he hung 44 on Washington. Before 33 and 25 in a back-to-back against Oklahoma City. And before he announced his presence in these playoffs with 20-plus points in eight of his first 11 games.
Here he is rampaging right up the heart of Golden State's defence on a fast break, somehow getting this ball through a flurry of arms and hands, up off the glass, and in:
Here he is side-stepping Green in transition and finishing a soft finger roll off the glass while his momentum carries him out of bounds: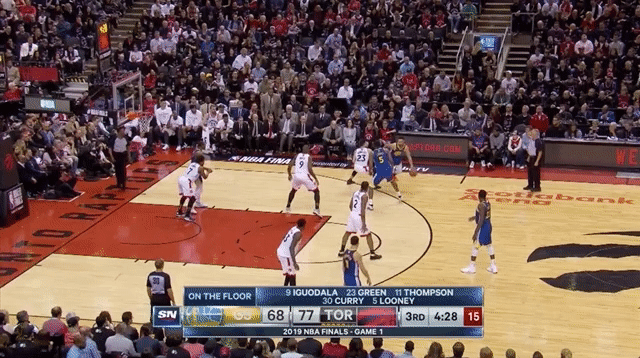 And here he is going right at Green with no regard, fighting through a shoulder charge, getting to the rim, finishing off his left hand and getting the shooter's roll of all shooter's rolls: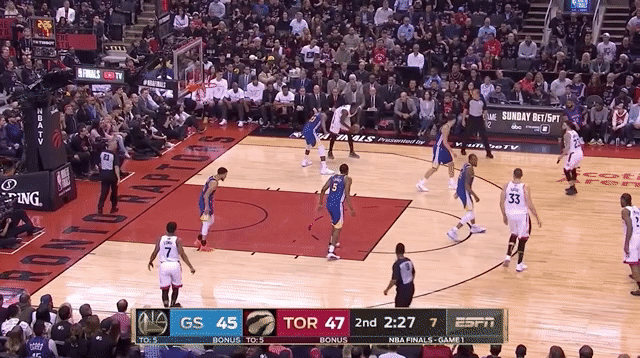 "He does a great job of attacking those gaps, using his body, attacking the angles that the defense is giving you," said Raptors centre Marc Gasol. "I just like when he plays that aggressive."
Aggressive is a good word for it. Siakam spent his entire night in a sprint — beating Golden State's defence up the floor on several occasions, storming the paint in transition, and making Green, one of the league's best defenders, often look like he was playing on roller skates. Never mind the fact he finished with eight rebounds, five assists, and two blocked shots on top of it all.
Now, he has to do it again. Spotty consistency has been the biggest criticism you could direct towards the Raptors star in these playoffs, as both Philadelphia and Milwaukee found creative ways to change the way they defend him, forcing Siakam into uncomfortable territory.
But what's made Siakam special to this point in what is still an incredibly young career, and incredibly young basketball life, is his ability to adapt. The way he responds when challenged. The work he puts in to keep reaching new heights.
"It's something that's so cliché most of the time, but that's the story of my life — just going out there every single night, working hard to get to this level, and knowing that I have so much to learn and I have so much room to improve and grow," he said. "I think that's what makes it's fun. And for me, just kind of falling in love with the game and wanting to get better and wanting to learn. Moments like this definitely show that I'm going to continue to be myself, continue to work hard, and have so much room to improve."