Warriors 106, Raptors 105 (TOR leads 3-2)
Kevin Durant played in his first game since suffering a calf injury over a month ago and he immediately looked like he was at his full form. In 12 minutes of action, Durant went 3-for-3 for deep en route to 11 points; however, a non-contact achilles injury knocked him out of the game and forced him to eventually left the arena on crutches. He's going to undergo an MRI on June 11.
DeMarcus Cousins saw an increase in his minutes due to Durant's injury and he rose to the occasion, adding 14 points, six boards, a steal and a block on 6-for-8 shooting in 20 minutes of work.
The series looked like it was coming to an end after Kawhi Leonard scored 11 points in 3:26 of action to give the Raptors are 103-97 lead with 3:28 to go.
From there, the Warriors' duo of Klay Thompson and Steph Curry took over as Curry made the game-tying 3 with 1:22 to go and Klay Thompson knocked down the eventual game-winner with 57.6 seconds to go. The Splash Bros outscored the Raptors 9-2 to end the night.
The Raptors had one last shot to win the game and end the series, but Draymond Green blocked Kyle Lowry's corner 3-pointer as time expired.
The post Post Up: Splash Bros Keep Warriors' Season Alive, Down Raptors appeared first on SLAM.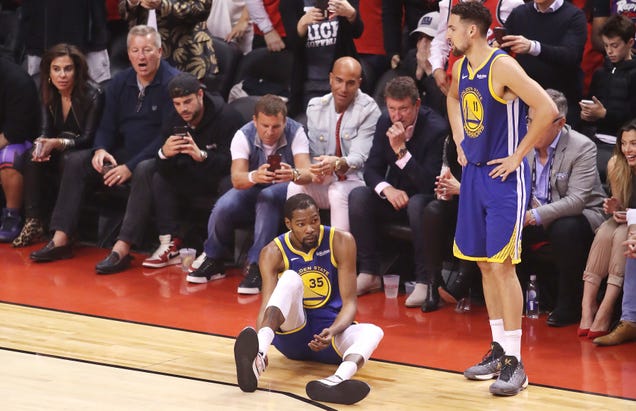 Warriors president of basketball operations Bob Myers spoke at the postgame podium Monday night following his team's 106–105 victory over the Toronto Raptors in Game 5. That's an unusual step for a personnel honcho, but these are unusual circumstances—it fell to Myers to announce that Durant's injuryis, in fact, to his Achilles tendon. As basketball injuries go, an Achilles injury is historically a few steps below having your head spontaneously pop like a water balloon, but only a few steps below. Durant will apparently have an MRI tomorrow to learn the extent of the injury, but it's safe to say in the meantime that this is very, very serious.
Kevin Durant ACHILLES INJURY - Game 5 | Warriors vs Raptors | 2019 NBA Finals
Part of what you see in that video is the grim business of professional sports, where it falls to someone to tell the world about the snapping or sheering or tearing or shattering of the interior of another person's body. Part of it, as you can see and hear from Myers's grey complexion and wobbly voice, is a person being broken up about the condition of a coworker. But there's also a good deal of fairly sticky message management going on there. Hours before it fell to Myers to update the world on Durant's devastating injury, it fell to someone in the Warriors organization to give the thumbs up for Durant to play Monday night. As a terse Steve Kerr implied minutes earlier, that decision was made somewhere over the head coach's head:
Presumably Durant would not have been given the green light to play in a Finals game without the approval of the team's medical staff. Myers made sure to cover all this, telling the assembled reporters that "prior to coming back, [Durant] went through four weeks with a medical team—it was thorough, and it was experts, multiple MRIs, multiple doctors, and we felt good about the process." Durant was apparently cleared to play as the result of a "collaborative decision," presumably with input from Durant himself.
It's a little bit weird to hear Myers bear down on his repeated suggestion that there's no one to blame for what happened, which is the real message he's bundling up in "blame me" platitudes. There are only two ways to read that, if you take it as more than professional courtesy, or lip-service: that no one in the organization could've anticipated that Durant's condition left him vulnerable to re-injury; or that everyone together understood the risk of re-injury and proceeded with the green-light all the same. But that's an important distinction, and one that hopefully will be cleared up before too long. Did Durant know his body was vulnerable to catastrophic injury? Or did a professional medical staff fail to notice that Durant's body was vulnerable to catastrophic injury?
And then there's the question of whether Durant's apparent enthusiasm for returning to the court for Game 5 was influenced in any way by the extent to which he is known to suffer from online brain. Warriors fans are unhappy withTim Kawakami of The Athletic for an article he wrote exploring the confusion around Durant's status following Game 4. Mostly it was harmless, but the kicker had some spice:
Maybe he'll make it back for Game 5, play brilliantly and lead the charge to a championship. Maybe he won't make it back and the Warriors will win anyway.

It's impossible to know. It's probably a bit cynical to even attempt to analyze. But just ask yourself this: If Thompson or Looney or Curry or Green or Andre Iguodala had this injury 30 days ago, would the Warriors still be waiting for them?