Samsung has big plans for its smartphone product line. The company has already introduced five smartphones this year – S10, S10 Plus, S10e, S10 5G, and Galaxy Fold. Every year, Samsung launches a Galaxy Note series smartphone. This year, it will launch the Galaxy Note 10. Though all the major Samsung smartphones are built on fresh design ideas and come equipped with the latest hardware, the Samsung Galaxy Note 10 could be even better.
1Next-generation RAM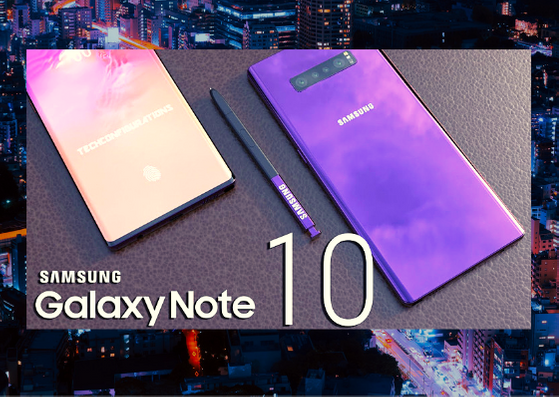 Soon after launching the Galaxy S10 Series smartphones this year, Samsung confirmed that it is mass producing the next generation LPDDR4X RAM. This new 12GB RAM module will allow smartphones to have more than five cameras, bigger display, and 5G capabilities. You may be thinking "we already have 12GB of RAM in the Samsung Galaxy Fold." The difference here is the Galaxy 10 Series phones do not feature the recently introduced LPDDR4X RAM.
Samsung has combined six 16-gigabit LPDDR4X chips for the next-generation RAM. The new RAM module is based on 10nm-class (1y-nm) process to save more space and to accommodate a bigger battery. The new RAM which is expected to be available in the Samsung Galaxy Note 10 will transfer data at 34.1GB per second speed.
2. Better performance
Samsung has confirmed notable performance improvements with the new 12GB DRAM. On ultra-large high definition displays, the new generation RAM will enable faster searches and fluid multitasking. Of course, Samsung will release Galaxy Note 10 with the latest hardware, but it will come equipped with far better components than the Galaxy S10 series phones. Alongside the next generation RAM, Samsung is also planning to add eUFS 3.0 storage to its smartphones. This switch from eUFS 2.1 storage to eUFS 3.0 will double the data read speed and also make the data write speed 1.6 times faster.
3. Six cameras
The Samsung Galaxy Note 10 will have six cameras. On the back side of the phone, you'll find a quad camera setup and two cameras will be on the front. Samsung is already shipping the Galaxy S10 5G variant with four cameras on the back. The smartphone has 12MP telephoto and 16MP ultrawide sensors.
In the company's official statement, Samsung also confirmed that the new RAM module will also improve the 5G and artificial intelligence capabilities of new smartphones. Samsung introduced animated emojis that turn you into either your favorite cartoon or emoji. It is based on the same augmented reality technology which Apple is using for Animoji. We expect to see more advanced features in Samsung's AR Emoji with the Samsung Galaxy Note 10 release.