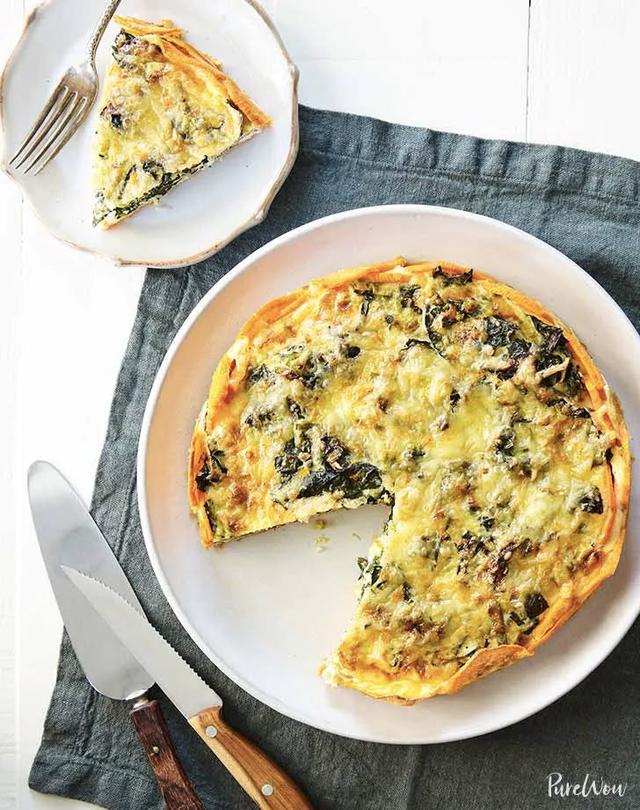 Quiche with Gluten-Free Sweet Potato Crust (8 Servings)
Same eggy, cheesy deliciousness, but with a crispy crust made of sweet potato slices. Now it's your chic, tasty go-to for breakfast, lunch or dinner.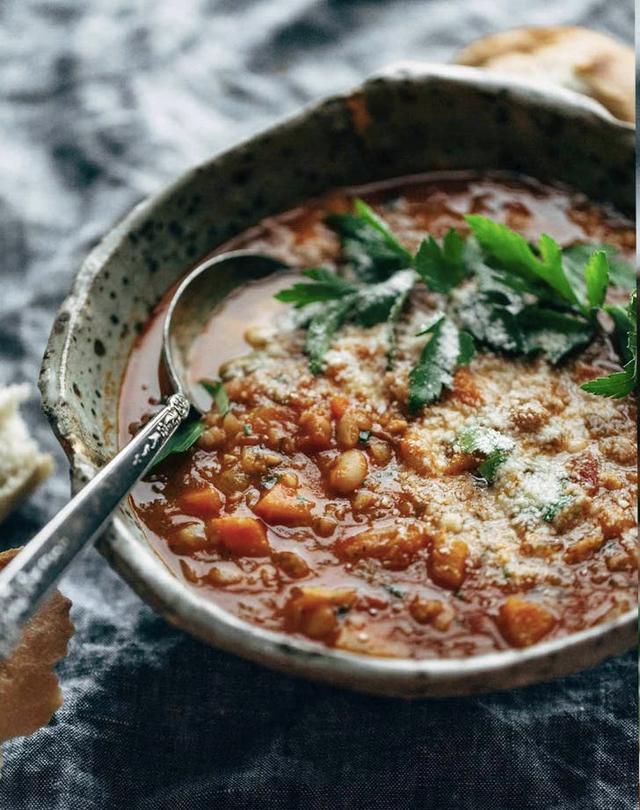 Instant Pot Minestrone Soup (8 Servings)
Top with fresh Parmesan, serve with a loaf of crusty bread and voilà, dinner is ready in half an hour.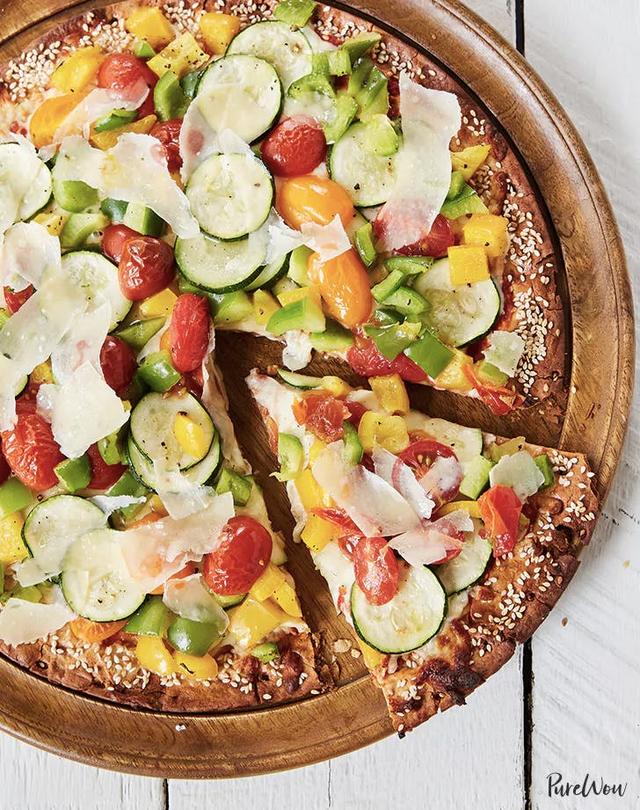 Cheater's Vegetarian Pizza with Zucchini and Bell Peppers (6 Servings)
Chances are, you've eaten a few sad, soggy veggie pizzas in your day (that have way too many black olives). But this pie starts with store-bought seeded flatbread, which remains crisp underneath a pile of thinly shaved summery vegetables.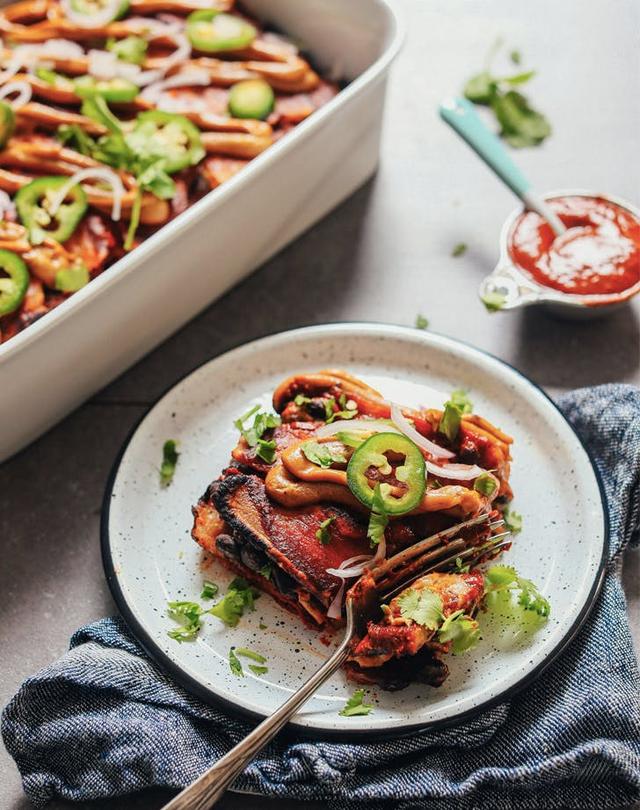 Black Bean Plantain Enchilada Bake (12 Servings)
Not only is this festive main vegetarian, but it's also vegan and gluten-free. And if you have leftovers, they'll keep in the freezer for up to a month.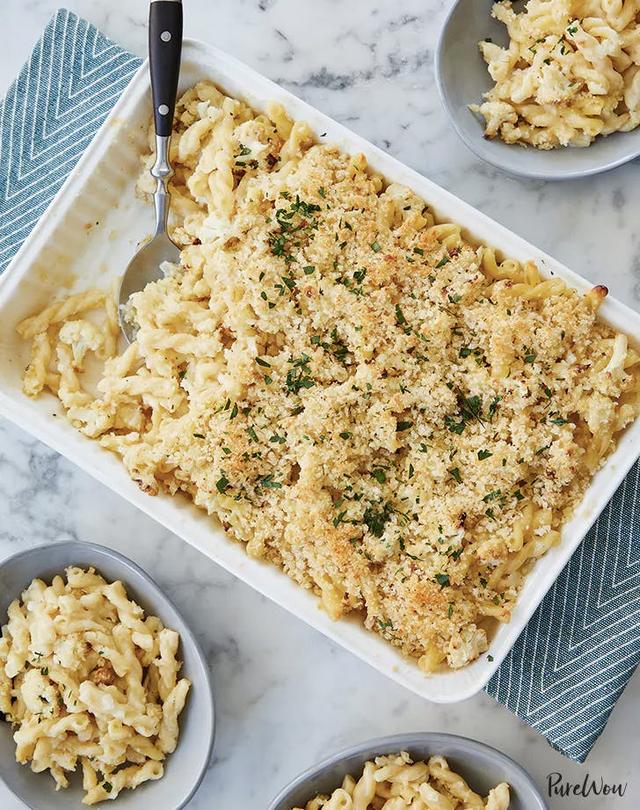 Roasted Cauliflower Macaroni and Cheese (6 Servings)
Most days, we want to dive into a vat of mac and cheese. Keep it a little more virtuous by adding creamy roasted cauliflower to balance things out.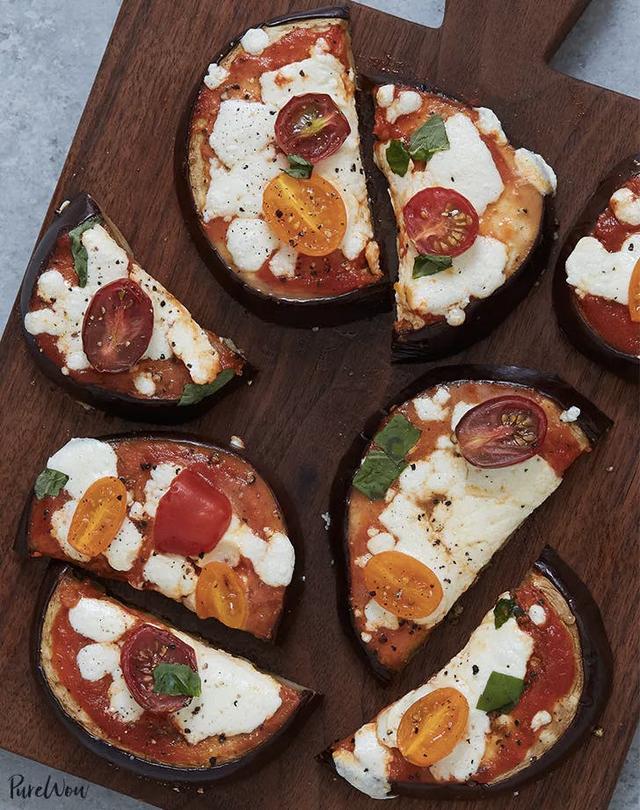 Eggplant Pizza (6 Servings)
This cheater's pizza is low-carb, gluten-free and takes less than an hour to prepare. (Don't worry, there's still plenty of cheese involved.)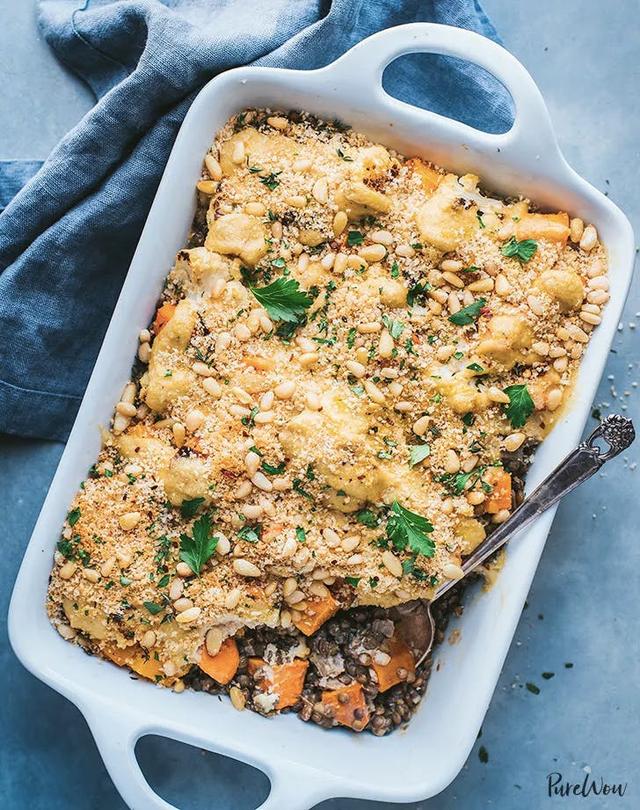 Creamy Vegan Lentil and Roasted Vegetable Bake (8 Servings)
Sweet, caramelized roasted vegetables and hearty lentils are baked in a rich cashew cream; a crispy pine nut topping brings crunchy balance. Tip: To make this gluten-free, omit the topping and garnish the casserole with simply toasted pine nuts.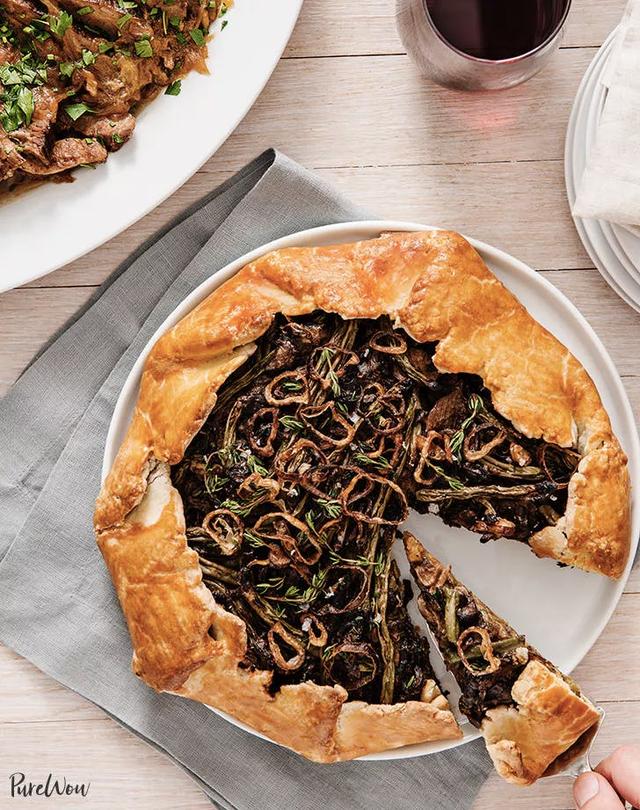 Green Bean Casserole Galette (10 Servings)
Make this for Thanksgiving dinner. Everyone will go back for thirds, guaranteed.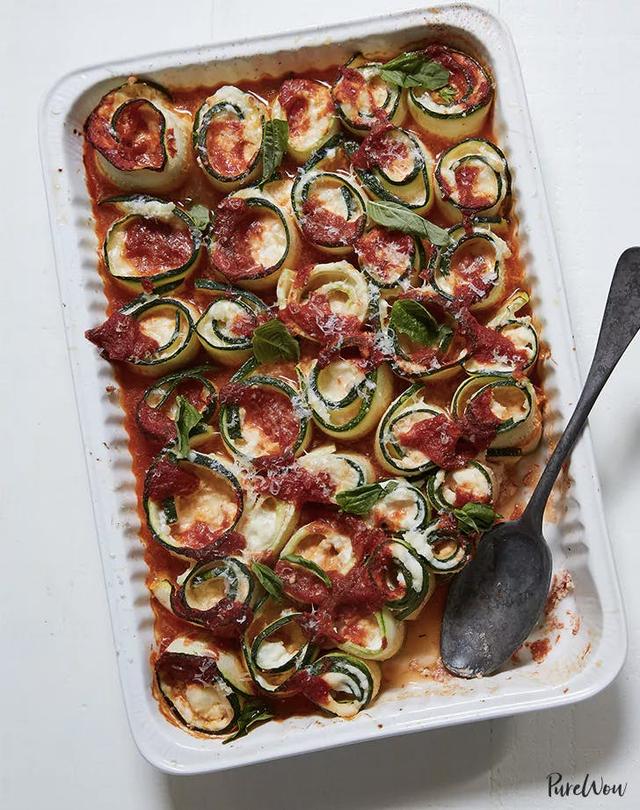 Baked Zucchini 'Ziti' Spirals with Mozzarella
We have a love-hate relationship with traditional baked ziti. It's cheesy, it's decadent and it's delicious, but it also makes us feel totally weighed down for the rest of the night. This lightened-up version has all the cheesiness but none of the carbs. Win-win.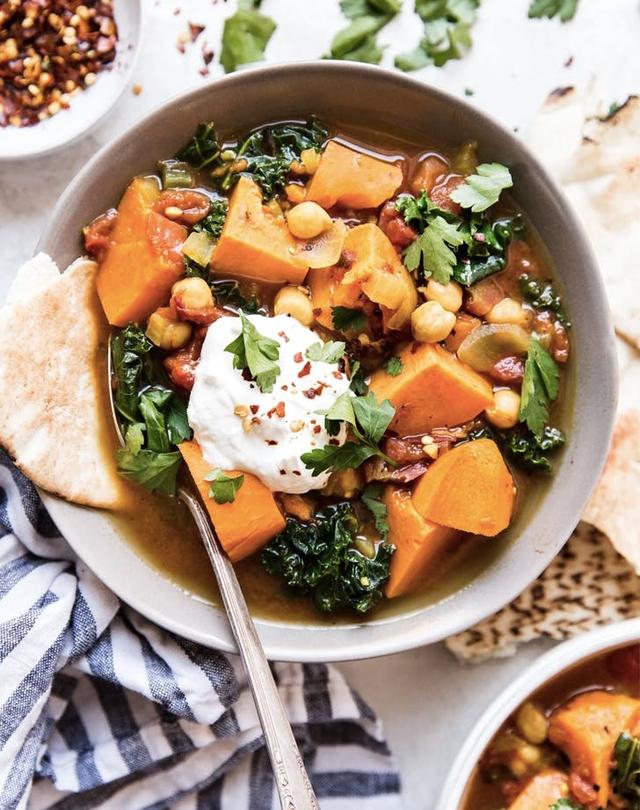 Spiced Vegetable Stew (6 Servings)
This isn't your ordinary stew—the broth is seasoned with turmeric, cumin and cinnamon, so it's fragrant, hearty and great for you, too.
Vegetarian Chili (8 Servings)
What do you get when you combine sweet potatoes, poblano peppers, crushed tomatoes, beans and spices? Complete and total deliciousness, that's what.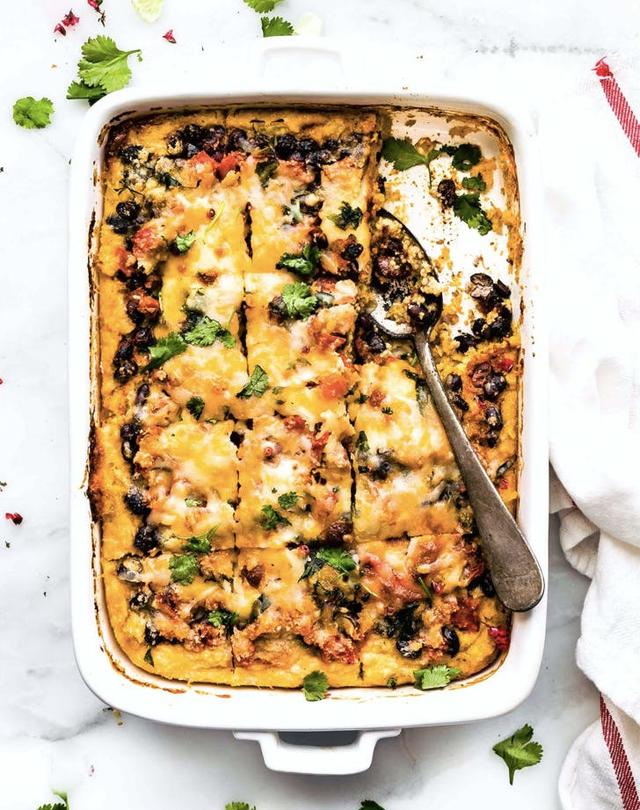 Easy Southwest Black Bean Polenta Casserole (12 Servings)
For the uninitiated, polenta is a creamy, filling cornmeal porridge that gets crispy around the edges when you bake it in the oven. When you're sick of pasta, rice and quinoa, polenta will be your suppertime savior.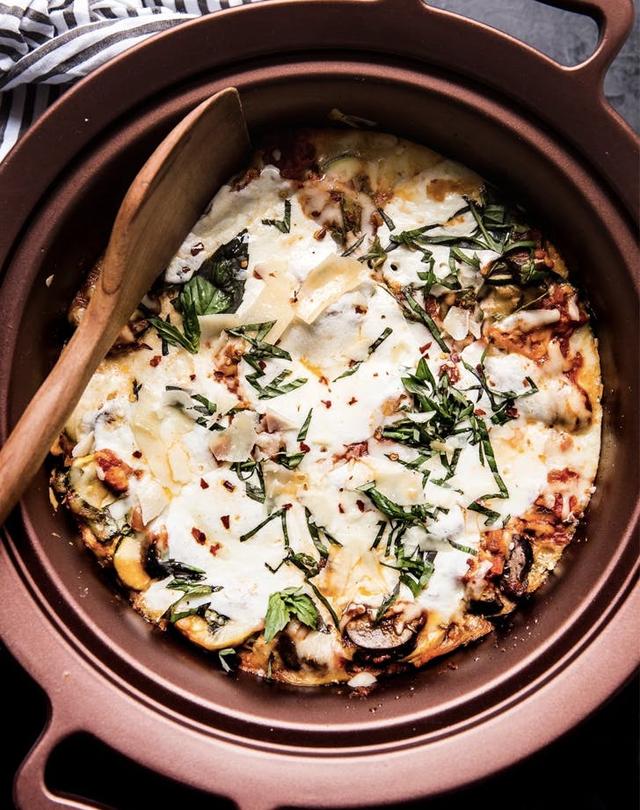 Crock-Pot Vegetable Lasagna (6 Servings)
We adore lasagna, but we're not huge fans of cooking the veggies and noodles in advance. Enter this easy slow-cooker recipe, which does all of the hard work for you.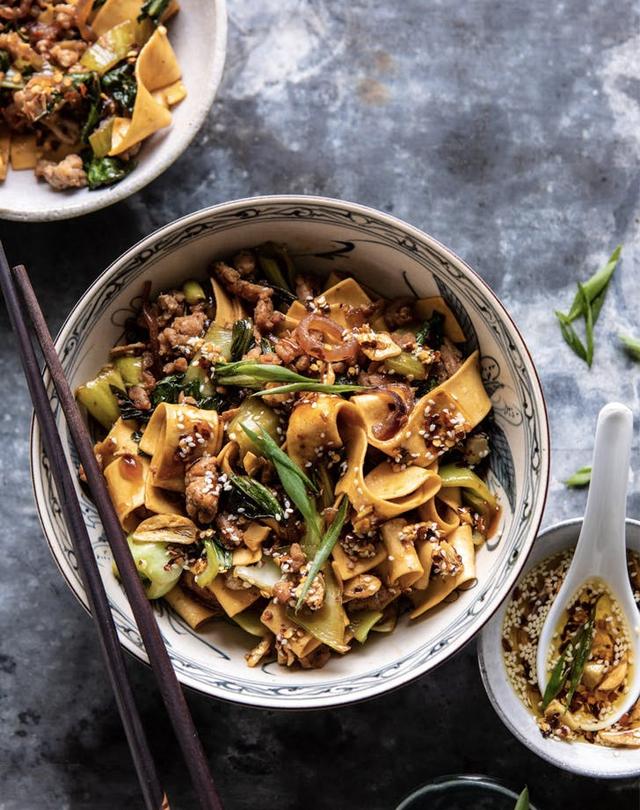 Szechuan Noodles with Sesame Chili Oil (6 Servings)
Saucy egg noodles? Check. Tons of veggies? Check. Toasted sesame chili oil drizzled on top? Check.