This College Magazine writer rocked her natural hair for a week. Here's what she learned.
CHECK OUT 10 NATURAL HAIRSTYLES THAT WILL KEEP YOU ON SCHEDULE AND PROUD.
1. WASH AND GO
No drying or styling involved is involved and the application of product is minimal for this style; you only need a moisturizer or anti-frizz serum. At the beginning of your hair journey, you may not have defined curls or coils. This is normal—the process takes time. Wash your hair as you would, put in moisturizer and run out the door. If you want more control, add some flair with a headband. "With this hairstyle I wash my hair everyday to help with the frizz. I like products that don't have a ton of oil in them and typically just dry shampoo. Depending on if I wanted to do my edges it only takes 10 minutes but if I was to spend time on my edges it takes 20 minutes, which still isn't that bad," University of Florida sophomore Bridgette Knight.
Time: 10–15 minutes
2. BANTU KNOTS
This hairstyle doubles—you can wear them in the knots themselves or let them loose in the morning. Then, you'll have soft and effortlessly styled waves. Start with a clean scalp, since much of it will be exposed. The last thing you need is product buildup making you scratch your head. Use a leave-in conditioner to keep flyaways in check while you detangle your hair to prep for styling. Create precise parts, then twist each section between your fingers.
Time: 10 minutes
3. HEADWRAP
I'm a personal fan of the headwrap, and I think style displays so much personality with little effort. When humidity is not on your side, wear a headwrap. Start by styling hair into a slicked-back style or high bun, then fold the headwrap in half so that it's lowered to the nape of your neck and covering your ears. Pull the fabric towards the front and tie into a double-knot, tuck the ends of the fabric into wrap so your hair is completely covered and lower the headwrap until it sits comfortably. "This is the hairstyle I do when I'm really lazy and don't want to really put effort [in], you kinda just wake up and go, I don't have to stress about anything but I still make it cute," Palm Beach State College freshmen Zanaiya Allen said.
Time: 5 minutes
4. TOP KNOT MEETS AFRO

report this ad
This sleek style lets your hair hang loose if it doesn't fit into the bun. Brush the front down and use an elastic to create a small bun. Then leave the other half full of curls. Rock this hairstyle if you want to show off your natural curls but also want structure on top.
Time: 10 minutes
5. SHORT AND SHAVED
Feeling bold? Take the plunge and shave part of your head to create the ultimate transitioning hairstyle. First, shave the back and sides of your head. This leaves the top with tiny textured curls, like a mini mohawk. With not much to do besides touch up the curls with a curl defining gel, and you're ready to go. Ditch the granola bar in the morning and make a delicious breakfast before heading to that early morning lab class with the extra time. The look is both edgy and feminine and the ultimate short care, don't care.
Time: 3 minutes
6. HALO BRAID
My college town is nicknamed Rainesville, because the rain can last all day into the night. Walking around campus in the dreadful weather means a hair disaster. But the halo braid protects your hair in case you forget your umbrella. In under five minutes, you'll have the perfect cross between laid back and professional. Before attempting the braid, make sure your hair is thoroughly moisturized, using a water-based leave in conditioner. Then smooth your hair with oil. Part your hair on your good side and literally do a flat twist all the way around your head, smoothing as you go along to tame any flyaways. Once you get to the end, tuck the ends in discretely into the already made braid adding bobby pins as you see fit.
Time: 20 minutes
7. FRENCH BRAIDS
This easy look takes you back to your elementary school. Start at the top on each side and create three-strand braids and continue to move down. Getting your hair professionally braided can be expensive, and chances are if you do it yourself you'll be left with an arm cramp, so practice and watch tutorials in advance. "I love my hair in braids, I've been wearing this style since I was in elementary school. I get to sleep in, in the morning and I don't have to deal with my hair becoming tangled," Palm Beach State College freshmen Madison Elizabeth said. "I typically wake up and use edge control and I'm done."
Time: 25–30 minutes 
8. TWISTED LOB
A "lob" is a long bob and made popular by celebrities like Maya Rudolph and Taraji P. Henson, who have chopped their locks off to this length. While the style has been mostly seen with straight hair in a blunt cut, the look works well with twists. Twists are generally less time-consuming than braids, and you can vary the size so they don't put as much stress on your hair. This serves as the perfect style if you need every minute of beauty sleep you can get. Unwrap your hair in the morning and you're good to go. The best part? The hairstyle lasts a few months so you won't need to add getting your hair done on a weekly basis to your already packed schedule.
Time: 5 minutes
9. HIGH BUNS
Buns get a bad rep, but they work great while juggling hanging out with your #squad and finishing internship duties. And the messy bun is the ultimate college girl look. Or make the bun picturesque and fool people into thinking you have your life together. Either way, putting your hair up takes less than a few minutes and minimal product. Use a brush to slick back all of your hair into a hair tie and you're done. "Since cutting my hair this has been my go-to look," PBSC freshmen Is'aiah Walton said. "It doesn't take much effort and I'm able to get to work or school on time."
Time: 10 minutes
10. DOUBLE BUNS
The double bun 90s trend came back and allows women to unleash their inner child. This look is similar to the high bun but more of a fun and playful look. They're sometimes called "'space buns." Some see it as more juvenile but I've personally have worn the look around campus and still feel like a grown-up. If your hair is on the curlier let them loose and show off the natural texture.
Time: 15 minutes
10 MORE NATURAL HAIRSTYLES TO KEEP YOU LOOKING FLY
Written by Morgan Robertson
11. AFRO
giphy.com
After cutting off all your damaged hair in "The Big Chop," adjusting to the change can seem overwhelming. A short hairstyle can come as a big shock. But don't get down, lift up your crown. Let it go with your natural afro or curls. You can't go wrong with bouncy ringlet curls anyways. Make sure to use extra hair product though so that the curl pattern will come all the way through. Buy a plethora of products to make your hair shine and bounce. Great products to use include Multicultural Curl, Kinky Curly Gel, Shea Moisture Repair and Growth Shampoo and Conditioner, Shea Moisture Curl and Shine Shampoo and conditioner and Shea Moisture Leave in Conditioner. Any product with natural oils will make your hair more sleek and shiny. Make sure to keep your hair moisturized so that the curls have more definition and drama. Add some style with cute headbands or barrettes.
12. BRAID IT UP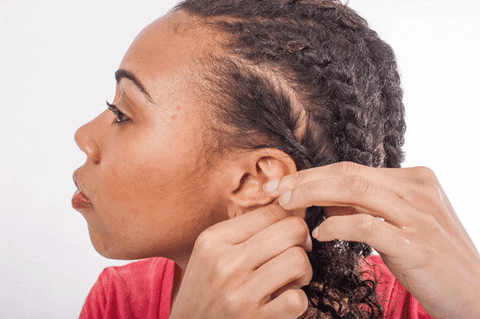 giphy.com
I know you've surfed the internet and found the videos of hairstylists working wonders or photos of women slaying the game with their braided locks. Other great options for those who don't like pushing and pulling on their hair every morning to try to make it presentable include side braids, French braids and box braids. You can rock any of these looks. Take some time out of your week and schedule an appointment with a hairdresser near you so she can have you looking right. "Protective hairstyle braids," said UC Berkeley Junior Taylor Smith. "You can wear those forever."
13. LOW PONYTAIL OR BUN
giphy.com
If your curls will cooperate with you, a bun or a ponytail provides another easy way to style your hair. "Slicked back low bun is my go-to hairstyle," said UC Berkeley Senior Adrienne Hinkston. Don't know what to do? Slick it back with gel, water, and a brush. You'll keep every hair in place and make sure your edges stay "laid" with no fly aways or frizz.
14. PINEAPPLE POOFS
giphy.com
We all look to strong, black women who set trends like Michelle Obama and Yara Shahidi. Now you can be a trendsetter on campus with this look. "The pineapple poof. It works because it takes less than 10 minutes to prepare for and do," said UC Berkeley senior Allanah Hughes. To do this simple hairstyle, gather your hair on the top of your head with a ponytail holder, bobby pins or a clip. Now, you have a nice, cute new do.
15. HAIR CLIP-ONS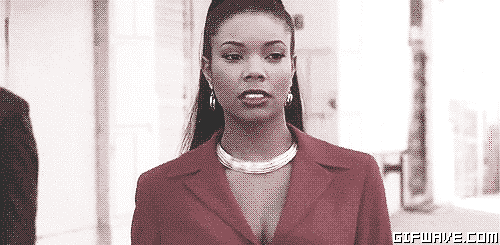 giphy.com
After a butchered haircut or after attempting a short style that just doesn't work for you, try a hair clip on. Simple enough to wear, you just pull your natural hair back into a bun and simply clip on a hair extension. You can find things like this in local beauty supply stores, in salons or online from reliable sources. Putting these in won't take the time that you think it would. These hair clip-ons also add more volume and length to your look. Don't forget to whip your hair back and forth.
16. WIGS
giphy.com
Easily found at your local beauty supply store, you can look like you spent hours on your hair when really someone else did. Perfect for those girls who want a new look every day or every week because you change the style, the length and the color as much as you want. This very versatile hair option leaves you to fill in the blanks of who you want to be on any given day. Today you want to look like Beyoncé? No problem. Tomorrow you can always look like Rihanna.
17. WEAVES
giphy.com
Having a weave makes hair maintenance a tad simpler. Of course, don't forget to wash, comb and take care of it. To keep every hair in place, wrap up in a scarf or a bonnet every night before you go to sleep. This look may work for a while. Weaves should only stay in for about two to three months.
18. HAT, HATS, HATS
giphy.com
Who said there was such thing as a bad hair day? You woke up late, spent 20 minutes trying to decide what to wear, your roommate completely hogged the bathroom and now you are late for work. Quick Fix: "A hat, mic drop," said Hinkston. Hats come in clutch when you wake up not really wanting to try or when you don't have enough time to do a full hairdo. Don't worry—you can definitely dress up this look too. Grab a pair of hoop earrings, put on your lip gloss, do your eyeliner and then rock it.
19. STRAIGHTEN IT
giphy.com
Although probably not possible before class, straightening your hair can work if you want a sleek, new style. Carve out at least one to two hours to wash, blow dry and straighten. The process feels tedious but worth it. Trust me I've been there and can picture it clearly: standing in front of the mirror, wishing to just be done with the straightener but after taking another glance in the mirror I realized that the other half of my hair is a poof saying, "No, honey, you're not done." Once you finish, give yourself a pat on the back.
20. TWISTS
giphy.com
Section off your hair into two or more sections, then part into two sections and twist them together. Pin the twist to your head with a bobby pin or let them hang from your head giving you some flair. The tighter the twist the more definition you can get. Try it, you won't regret it. You can do twists with the hair that you have or you can twist in more hair extensions for a fuller more fun look.
EVEN IF YOU DON'T FEEL LIKE DOING YOUR HAIR,
 

WEAR THIS TANK

 

AND LET THE HATERS HATE: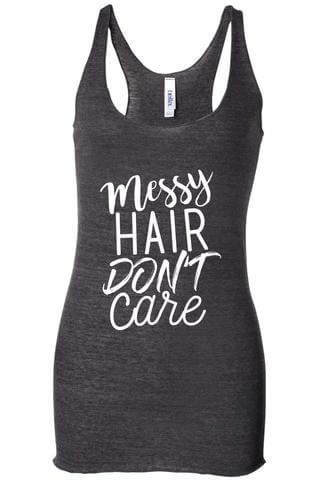 MY HAIR LOOKS GREAT, BUT HOW DO I KEEP IT LOOKING THAT WAY? CHECK OUT 5 TIPS ON HOW TO CARE FOR NATURAL HAIR IN COLLEGE.
Written by Kennedy Murray.
"My college years were the best of my life," they said. "I loved my dorm," they said. But between shower shoes and microwave dinners, caring for natural hair remains one of the least considered, yet most important realities of college life. No one said college would be easy, but managing lab reports and a wash-and-go that should've been gone a week ago sometimes creates more stress than anyone should handle. But don't give up. Through organization, willpower and a bit of indulgence, taking care of natural hair on campus becomes as easy as sneaking food out of the dining hall.
HERE ARE 10 PRO TIPS FOR GIRLS LEARNING HOW TO CARE FOR NATURAL HAIR IN COLLEGE
1. USE THE HANDICAP BATHROOM ON WASH DAY.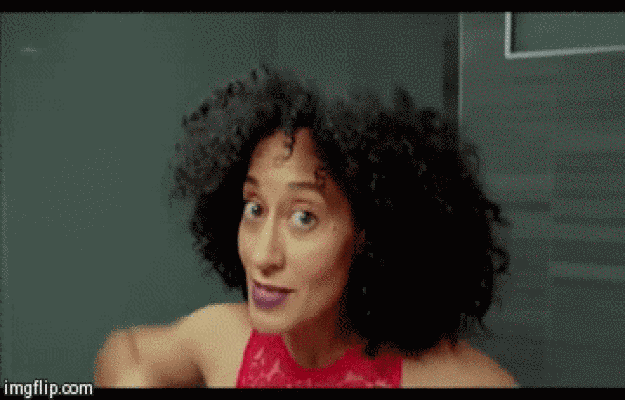 giphy.com
Living in a dorm has its perks. You probably have access to a shower space bigger than the one you're used to at home. Now picture this: you have all that extra space to comb out your conditioner and a hand-held shower head to help rinse it out.  Throw on some Solange or Corrine Bailey Rae, and welcome to wash-day heaven. Of course, the handicap shower doesn't exist for your hair-washing pleasure, so be mindful of hogging it (especially if someone on your floor actually needs it). Otherwise, as long as you show a little consideration, there's no shame in indulging in shower time to get through the struggles and stresses of the semester and your natural hair.
2. WORK YOUR HAIR REGIMEN INTO YOUR SCHEDULE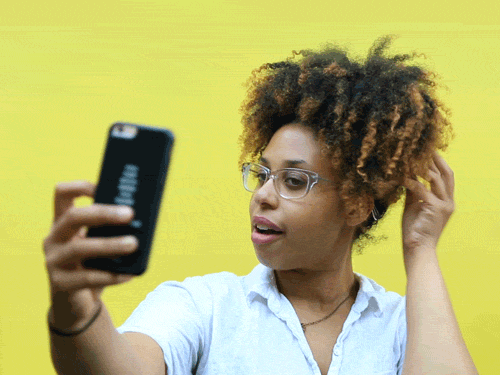 giphy.com
Sooner or later, you find yourself knee-deep in a sociology paper while simultaneously fitting in your weekly workout and a quick phone call to Grandma. In college, multitasking is a way of life; so it only follows that hair maintenance only really works when slipped into your overfilled schedule. "Washing my hair is just a whole ordeal, so I try to find random pockets of time to fit it in," Vassarfreshman Farhia Osman said. "If I have a long period of time, then I take advantage of that because I never know when the next opportunity will come. So I have taken showers at all times of day and night." Habits like applying a deep conditioner before starting that midterm paper and re-twisting your hair while reading psych make you more efficient and time savvy than BET trying to play all of The Jacksons: An American Dream in one day. When efficiency counts for everything, make every part of your day count.
3. WHEN IN DOUBT, EMBRACE PROTECTIVE STYLING.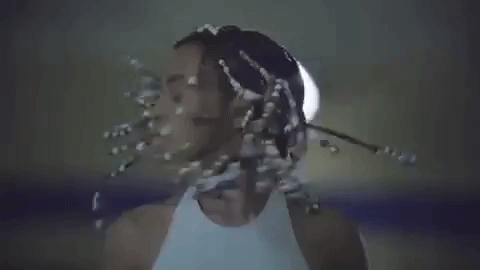 giphy.com
When you begin watching the sunrise before getting any sleep and consider carrying coffee in an IV bag,  you start to put your weekly hair regimen on the back burner. If you start spending less time with your curl cream and jojoba oil and more time with Kant and Newton, embrace protective styling. "I got box braids when I came back for second semester, and I love them," Osman said. "They're a fun change, while also being a lot easier to manage than my regular curls." The relativelylow maintenance of protective styles (from box braids, to wigs or buns) makes them perfect for girls learning how to care for natural hair and those transitioning. "I decided to protective style at least for my freshman year of college for convenience," Carnegie Mellon freshman Anita Dash said. "I knew that being in a new environment and taking college courses would be very stressful, and I did not want to have to worry about styling my hair every morning." When you experience your first single-digit winter and can't rely on your regular stylist, protective styling works as a natural hair-care Hail Mary. Each style prevents damages of overexposure to elements like harsh weather (you know, when it's 70 degrees one day then snowing the next), chemicals and over-manipulation that may come from one detangling too many.
4. INVEST IN HAIR-WEAR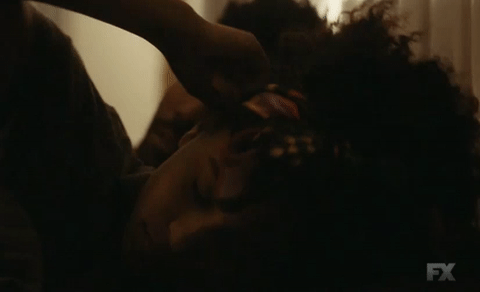 giphy.com
For college girls looking to add extra flare to their protective styling, scarves and headwraps are the perfect way to take care of natural hair. Stylish accessories by day, convenient covers by night, scarves stand as an unmatched lifesaver for naturals everywhere. Aside from just a pop of color, scarves and headwraps provide protection from the looming threat of mother nature. If you hadn't seen snow until stepping foot on campus, chances are that you never had to adjust your regiment for the drying (and damaging) effects of winter. Moisturizing is crucial to maintaining healthy natural hair, but living on a college campus may make it difficult to stick to your usual routine. "At home, I would get deep conditioning treatments regularly at a salon I trusted," Osman said. "But, since I have been at Vassar, I have had to compensate for that fact by making at-home deep conditioning mixtures or keeping my hair hydrated." Keep your natural hair covered and protected while you take time to figure out which products and procedures work best for you. Snag accessories like satin-lined caps (SLAPs),that take hair-friendly headwear to the next level. By combining th...
5. ASK FOR ADVICE
Don't be afraid to ask that senior with the amazing twists how she maintains them, or ask that girl in your econ class how she keeps her curls so defined. No one develops a new hair routine overnight. Though it may not always seem like it, plenty of people understand and relate to the struggle of learning how to care for natural hair while trying to maintain an internship-worthy GPA, a mom-approved clean dorm room and a social life that doesn't leave you feeling alone. In fact, your search for the perfect hair care advice doesn't have to be limited to your campus; youtubers like Stylishlyfun and Naptural85 provide enough tips and tutorials to get you through the semester. Not to mention, Instagram accounts like avielleamor and mahoganycurls are the perfect starting place for daily inspiration. From products to routines, hearing about different methods can help solve whatever hair woes plague you on the regular.Al-Alami