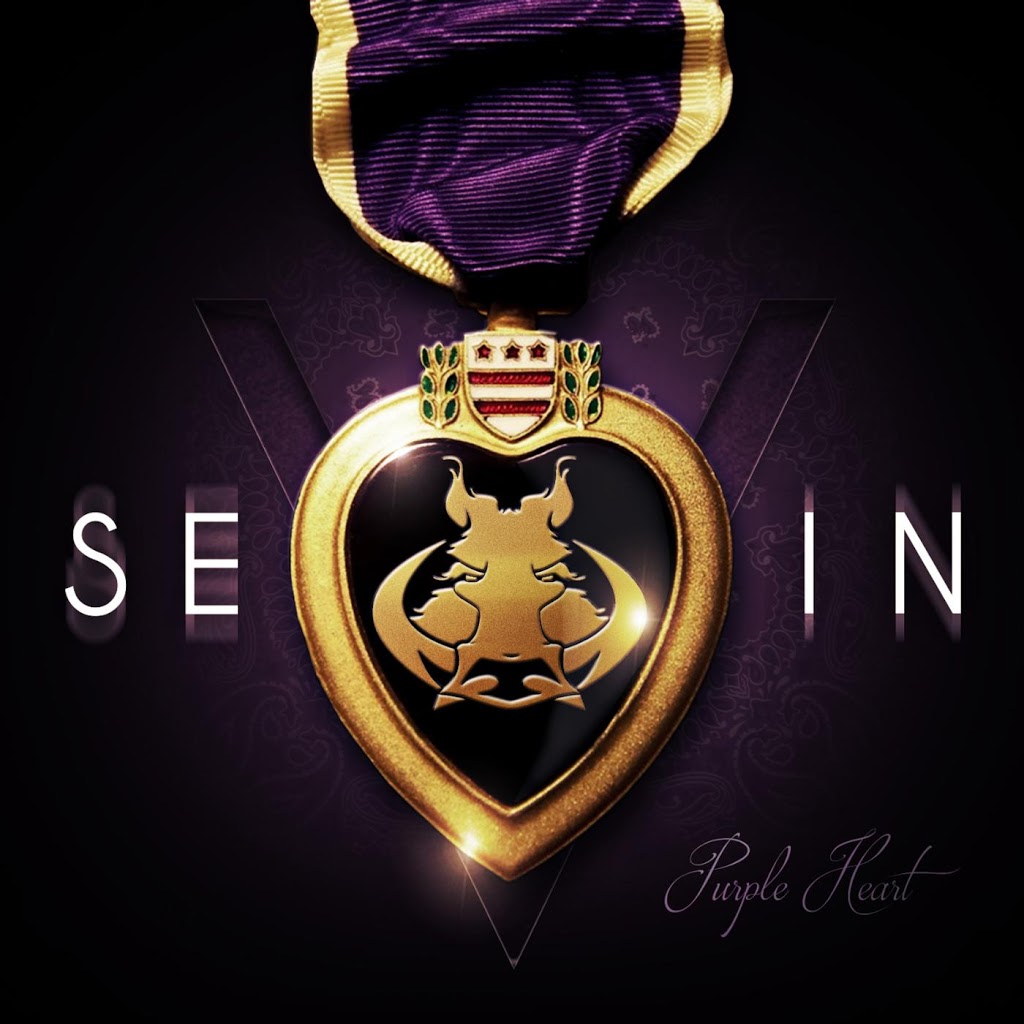 I ain't gonna lie, homie make you wanna go back and revisit some stuff. I'm here trying to figure out, how come I haven't grabbed none of his work yet. He killing it…a couple years younger than me, with a huge catalog. He signed with Bizzle's, God Over Money last year. Sevin got like, 17 albums. I don't have none of them…but this one. This mug go hard. He run a camp called HogMob. That's actually the HogMob logo on the Purple Heart cover. Its a group of artist with the same focus to push the kingdom.  So check this from Wikipedia about this Purple Heart album,
Surrender is what we all need to do. Surrender to the will of God. Life gets hard, people die, homies do you wrong, seem like God not listening. We have to surrender to him to truly see the light. Time Go feat Bizzle & Eric C was some hard bars reminding us that time will keep going. Don't get caught up. The last cat, Eric C, yeah…I have no clue what he was saying. He sounded like the homie Deeturnal. He still crashed it. The beat switched…I still was bobbing.
Purple Heart is the title cut. Sevin killed it…talking about being fully committed. It's about being willing to die for this. People get Purple Hearts because of sacrifice. You gotta be willing to go all in for the Lord. I'm Wit It feat Datin, Bumps Inf and Bizzle is another click song, loaded with lyricism from the God Over Money camp just really being in agreement with each other and the mission they on. The mission is to lead others to Christ. I'm wit it to. Real Talk.
You Are God feat Sheena is straight Rap Worship. This that uplifting, feel good song just giving God the glory for who, and what he is. Y.O.L.O feat Datin is about being free from the destruction Satan has planned for us. We have to stay prayed up and consciously fight to be yanked out lucifers oppression.
Dig this verse from Purple Heart by Sevin
Yeah purple camo
Rambo on my shoulder blade
Teflon ammo kevlar panels on my motorcade
War with Hades til they lay me in a soldier's grave
Hello purple heart medal on my whole brigade
And a man with no ambition makes the coldest slave
Them mental prison's leave you sitting up in an open cage
Feel like I've risen to my chosen age
One of the best when I was drunk
Ya'll sure can't see me in my sober phase
My soul is saved
Path to success… golden paved
They know we paid
The more they hated us the more we made
Weed in the dough just like a police raid
Wanna know how real it is
Sin is killing kids like Roe v Wade
Blessing Yah I came to testify I know He saves
They see my love for God it justifies my holy rage
These devils soft as flowers
You bled on the cross for hours
I stay on my Austin Powers… Oh behave
Sevin got a way with words.  He got some others on here like One Moment, Broken Mirror and If I Could. All jammers. The homie Sevin is nice. He got crazy word play, throwed delivery and he intellectual when he spit. He killing it. Shout out to the West Coast. This Purple Heart project got new school tracks, trap beats, west coast, praise tracks and a bunch of features from the squad, rightfully so. Its 15 tracks total.