Christon Gray Clear The Heir
Best Song On The Record:
"
Gray
" has so much depth lyrically, it touches on recent social issues and calls the church to more action. It is an Ohio all-star show featuring Gray's brother 
Taelor
 and 
Tragic Hero
. It isn't a song that can be listened to once. It is a song to sit with. The chorus is an exhortation to the listener, "
There's a Heaven and we all wanna go/Does anybody wanna fall on the sword/Take my hand, I just want you to know/Healing begins when you call on the Lord.
"
Christon Gray is a rule breaker. He does not fit neatly within one genre. Rather, he blends them together, making something that can only be his own. His journey over the years has been the tale of the underdog. This is an artist that should not be counted out or brushed aside. 
Clear The Heir
 is an album that will be revisited years from and considered groundbreaking in its own right. 
Read More Here
Theory Hazit – Thr3e
'Thr3e' is the third album in the Lord Fire series by Scribbling Idiot member Theory Hazit. Entirely produced by Dert, this album is full of storytelling, verbal action and dope beats. Ch3ck it out!
The opening track, "Thr3e Intro" is a banger, which finds Theory exploring the number three in biblical and non-biblical contexts. "Old Derty Hazit" is another track that finds Theory referencing a lot of different topics with a sick flow over a banging Dert beat.
On the production side of things, Dert handles the whole album. Dert is a fantastic producer who has bounced around and worked with a lot of different MCs. His work on this album proves that he can handle a myriad of styles. Whether it's creating a beautiful, haunting feel on tracks like "Find Me" and "Distorted Joy", or creating a decisive "boom bap" on the intro or "Old Derty Hazit", Dert shows how truly versatile he can be.
This is a really good album with something for everyone. This is especially true for those who enjoy great hip hop storytelling. So, pull up a chair, put on Thr3e, and take a little trip down Theory Hazit's own little version of memory lane. It's a portrait of the artist from a perspective that no one else can have…his own. Read More Here
Theory Hazit has been making beats and raps for a long time, with plenty of albums and beat tapes under his belt. He's rapped with (or done production for) Toni Shift, Braille, Wonder Brown and many more. For his first full-length record through Humble Beast, he's teamed up with legendary Tunnel Rats beatmaker Dert, and the result is Theory's long-awaited album Thr3e. The teamwork between Theory and Dert is excellent. Dert's production is of a more underground nature, with some nice boom-bap action, a little bit of R&B, some slight jazz leanings (like the saxophone behind Propaganda's guest appearance) and a good amount of soul (like the vocals in the hook of "Find M3"). Theory's flow is tight, with lyrics that are smart; he's confident in his ability to skillfully rap, but also stays humble, keeping true to the record label. In the album's intro, Theory talks about the number three and its different meanings and usages in today's culture. Later, in "Distort3d Joy," he speaks from the perspective of a fetus whose mother refuses to quit doing drugs while she's pregnant, and later discusses the consequences of such recklessness. Some of the lines are hard-hitting, like "Mommy, look what lust has done to us." Another emotional track is "I N3ed You Mor3 Than 3ver," where Theory addresses his need for his physical father in his life. Humble Beast cohort Propaganda arrives for the second half of the song and speaks to the father of his step-daughter with real talk ("Part of me hates you"), passion ("That's how much I love her, I am willing to admit that she does need you") and a little bit of pain in his heart ("I'm a come-off-the-bench dad, JV, second string, substitute, step-dad"). If you're looking for some good hip hop to start off the year, or you've been a follower of Theory Hazit, Dert or Humble Beast, you should definitely pick up Thr3e; whether it's free from humblebeast.com or a physical copy from Sphere of Hip Hop, you can't go wrong. Read More Here
01 Thr3e
02 Find M3
03 What Li3s B3neath
04 Ol D3rty Hazit
05 Int3rlude
06 Ang3l PT.2
07 I N3ed You Mor3 Than 3ver
08 For Lack Of A B3tter Word
09 As Th3 Day Go3s By3
10 Chang3 Gonna Com3
11 Distort3d Joy
12 Doomsday Insuranc3
13 Jo Jo Danc3r
"Move Merchants II"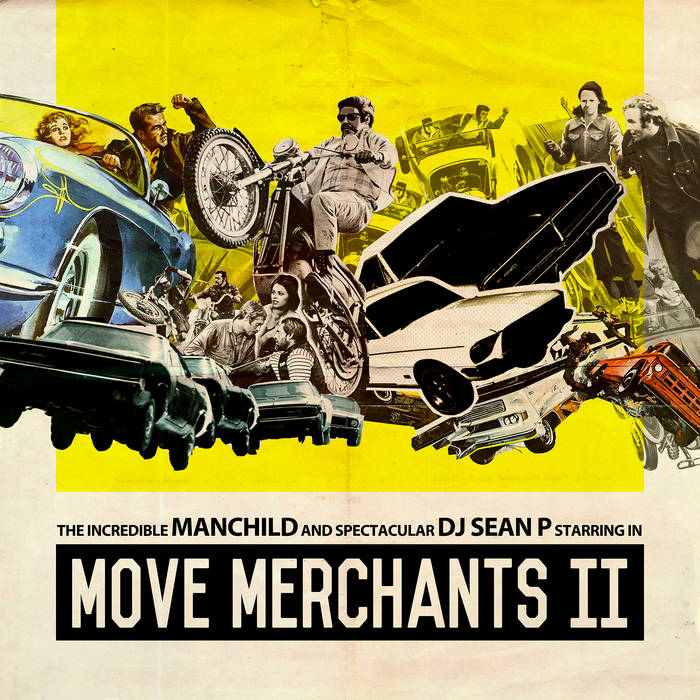 "Move Merchants II", has a 70's action movie theme and contains 11 tracks. The guest appearances include Krum (Playdough, Deepspace5, Ill Harmonics), Jurny Big (Tunnel Rats), Elias (Scribbling Idiots, Dafuniks), and newcomer Le, from Austin, TX.
.
In a nod to DJ's and producers, the instrumentals and acapellas are available on a second album with an alternate cover. "Everything the Move Merchants do is classic hip-hop," said Krum, "I've been asking my parents for this album ever since it came out".
"Move Merchants II" is now available for purchase on iTunes and Amazon. For a free copy, or to download the instrumentals and acapellas version, go to the Move Merchants website at http://www.movemerchants.com.
The free doesn't stop there. The Move Merchants are also giving away their first album from seven years ago. Both albums were produced by phatmass.com for the people of earth.