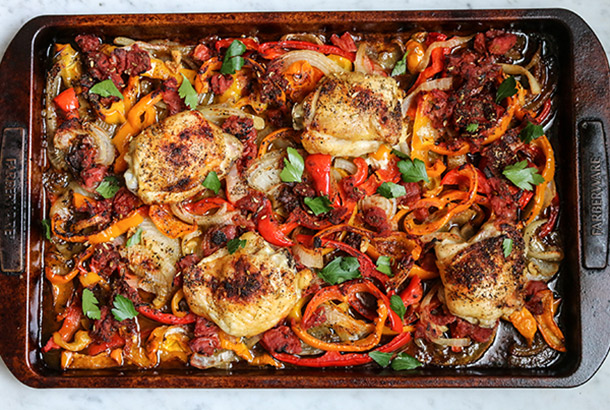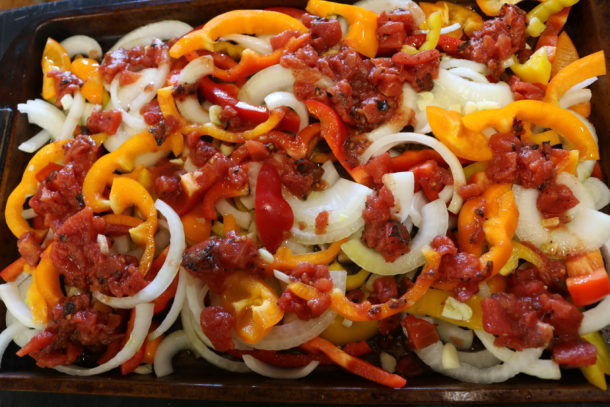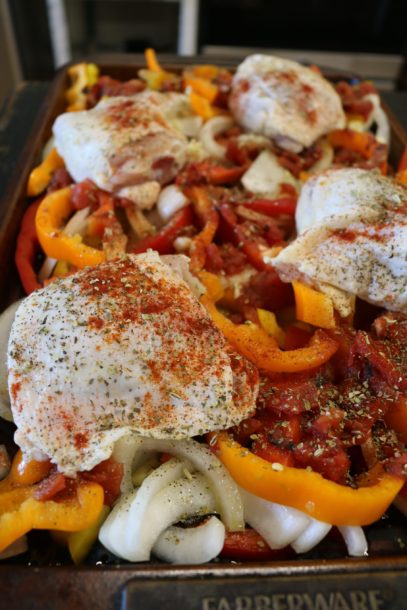 Ingredients
4 chicken thighs, skin on
extra virgin olive oil, for drizzling
salt and pepper
4 colorful bell peppers, sliced
2 medium sweet onions (vidalia), sliced
2 cloves garlic, roughly chopped
splash of white wine
1/3 cup extra virgin olive oil

 

buy now
15 oz can diced tomatoes (fire roasted if possible)
1/2 tsp salt
1/2 tsp pepper
1/2 tsp fennel seed
1 tsp smoked paprika
1/2 tsp dried oregano
1/2 tsp dried basil
Instructions
Preheat oven to 400 F.
Drizzle the chicken thighs with olive oil and season with salt and pepper. Set aside.
Make a layer covering the sheet pan with the peppers, onions, and garlic. Add splash of white wine. Drizzle with 1/3 cup olive oil. Pour can of diced tomatoes evenly on top. Season with salt and pepper.
Arrange chicken thighs on top.
Sprinkle everything with fennel seed, paprika, oregano, and basil.
Bake at 400 F for an hour and fifteen minutes.
Enjoy!