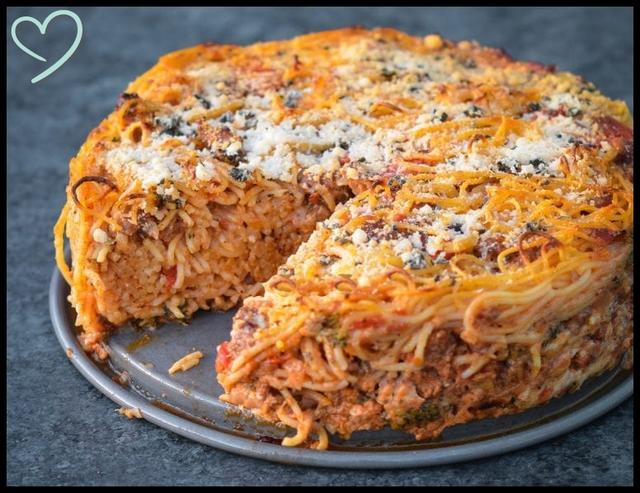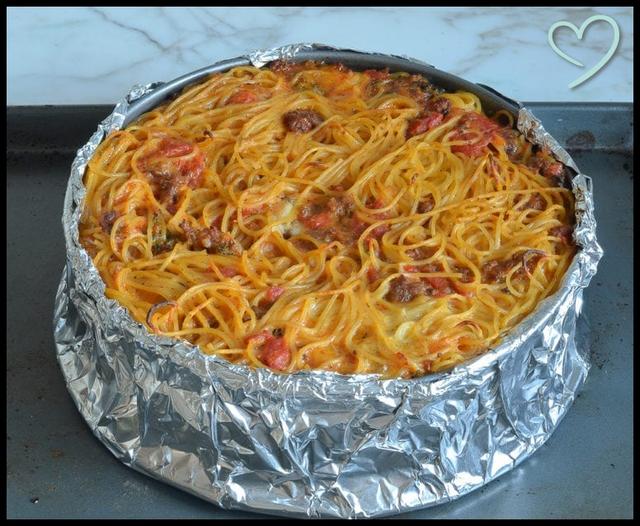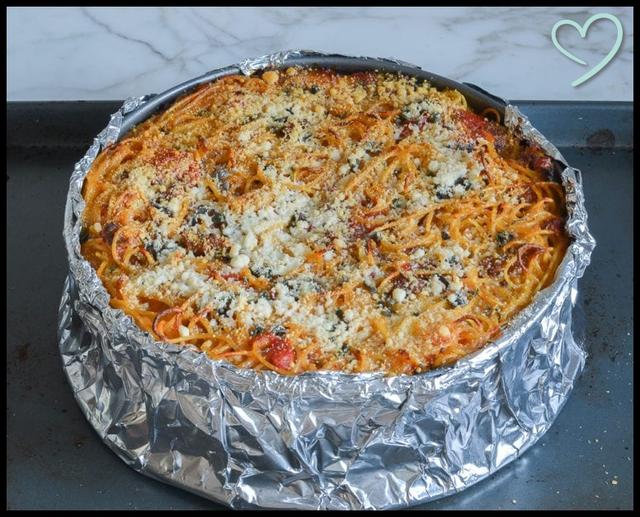 INGREDIENTS
Unsalted butter, for greasing the pan
2 tablespoons extra-virgin olive oil
1 medium yellow onion, finely chopped
2 cloves garlic, finely chopped
3/4 lb broccoli or broccoli rabe, trimmed, stems and florets chopped into 1/4-inch pieces (about 2 ½ cups)
1 lb hot or sweet Italian sausage, removed from casings
1 tablespoon tomato paste
1 (28-ounce) can whole peeled tomatoes, drained, tomatoes crushed by hand
Kosher salt
1 lb dried spaghetti
3/4 cup whole milk (I substituted half & half)
3 large eggs
2 teaspoons freshly ground black pepper
2-1/2 cups (8 oz) grated sharp cheddar cheese
2-1/2 cups (8 oz) grated fontina cheese
1-1/2 cups (3 oz) freshly grated Parmigiano-Reggiano cheese, divided
1 tablespoon finely chopped fresh sage
Special equipment: 9½-inch springform pan
INSTRUCTIONS
Bring a large pot of water to a boil. Preheat the oven to 425ºF and set a rack in the middle position. Butter a 9 1/2-inch springform pan. Tightly wrap the bottom of the pan with a large sheet of aluminum foil, crimping the foil against the outer edges to tightly seal.
In a large skillet, heat the oil over medium-high heat. Add the onion and garlic and cook for 1 minute. Add the broccoli and 1 tablespoon of water and cook until the broccoli is crisp-tender, 2 to 3 minutes. Add the sausage and cook, breaking the meat into small bits, until cooked through, about 6 minutes. Stir in the tomato paste and cook for 1 minute, then add the crushed drained tomatoes and 1/4 teaspoon salt. Cook, stirring occasionally and scraping any bits from the pan, until the liquid is mostly evaporated, about 5 minutes. Remove from the heat and set aside.
Add salt to the boiling water and cook the spaghetti just until very al dente, 7 to 8 minutes (look for a white spot in the center when you bite into a strand). Drain the pasta (do not rinse) and reserve the pot.
In a medium bowl, whisk together the milk, eggs, pepper, and 3/4 teaspoon salt. Combine the spaghetti and milk mixture in the pot; add in the sausage-broccoli mixture, cheddar, fontina, and 1 cup of the Parmesan; stir until well combined.
Transfer the pasta mixture to the prepared pan. Using a spatula, smooth the top. Set the pan on a rimmed baking sheet and bake until the edges are golden and bubbling, about 35 minutes. (Keep an eye on it; if the top starts to get too brown, cover with foil.)
Remove the pan from the oven. Turn on the broiler. Sprinkle the pie with the sage and remaining 1/2 cup Parmesan. Broil 4 to 5 inches from the heat until the cheese is golden, 1 to 3 minutes. Keep a close eye on it so it doesn't burn. Remove from the oven and run a knife around the inside of the pan. Let the pie rest for about 10 minutes, then release and remove the sides of the pan. Cut the pie into slices and serve warm.