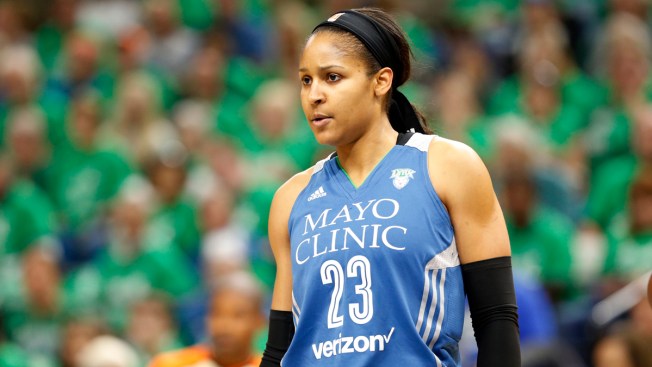 Minnesota Lynx's Maya Moore, left, shoots against Indiana Fever's Jazmon Gwathmey during the first half of a WNBA basketball game. Moore will take a year off from professional basketball to focus on family and faith. (Darron Cummings)
Maya Moore will take the year off from professional basketball, the former UConn star announced Tuesday in an essay on The Players' Tribune website.
"I learned a long time ago that my purpose is to know Jesus and to make Him known," Moore wrote. "My focus in 2019 will not be on professional basketball, but will instead be on the people in my family, as well as on investing my time in some ministry dreams that have been stirring in my heart for many years."
Moore wrote that she will miss seeing her teammates every day but looks forward to focusing on family and faith.
Moore has spent eight seasons with the Minnesota Lynx, earning five first-team all-WNBA honors and winning four league titles. She has typically spent the WNBA offseason playing overseas, most recently for UMMC Ekaterinburg of the Russian Premier League.
I will not be playing professional basketball this year. https://www.theplayerstribune.com/en-us/articles/maya-moore-wnba-announcement …

https://pbs.twimg.com/card_img/1092878372986744833/ufVBFXit?format=jpg&name=600x314

); background-size: cover;">

The Shift | By Maya Moore

I'm sure this year will be hard in ways that I don't even know yet, but it will also be rewarding in ways I've yet to see, too.

theplayerstribune.com
6,237 people are talking about this
Lynx coach Cheryl Reeve said in a statement Tuesday that she supports Moore's decision to take time off from basketball.