Jam The Hype Jam the Hype
"Fedel is an artist who loves God, who loves people, and is here to bring hope."
On August 22nd, Fedel released an EP called Church Trap. The Dallas, Texas artist considers it to be the best representation of his story, growing up both in the church and the trap. 
Though his father was a minister, Fedel explained that the dangerous neighborhood he grew up in made more sense than his home. "My home was so toxic." His parents were constantly arguing and eventually split. Living in Memphis, Tennessee, known for having one of the highest murder rates in the nation, he was often facing the fear of violence.
Stream The Album Here!
"It was scary at home and scary in the streets. It wore on me a lot over time."
He describes his upbringing as confusing and depressing, "but on the flip side, it was a lot of lessons I couldn't learn any other way." Fedel says that by God's grace, he was able to make it out and do so with hope. "My heart for people came out of the turmoil and tension of growing up between those two worlds."
With the EP, he explains the trap to not only be a part of town but any dark place a person may find themselves in. He wants to counter that with the hope of Jesus Christ and the Church. Church Trap was produced in conjunction with D-Hood, except for one song that was produced by JuiceBangers.
Six of Church Trap's nine songs have been released as singles since December 2018. Fedel decided that due to the songs' common theme, he wanted to put them together and created three more to go with them. "I felt [like] all of the songs represented a similar hope that I wanted in my music."
Church Trap's introductory song, "Church Zoo," was inspired by Fedel's high energy concerts. The artist loved listening to energetic trap music growing up and considers it the greatest influence on his own style. He described the song as saying,
"I'mma turn the church into a zoo. It just means that everybody is gonna get crazy, mosh pit in the church. We're going to go out of this church and be brave."
When people come to his shows, he not only wants them to have fun but also to receive hope and seek to later share that with others. 
"In My Bag" comes from the term which Fedel explains expresses the thought that when a person is having a great day, "you say I'm in my bag today." He wants the song to make listeners feel good and be confident in themselves.
Fedel's song "Fear" is largely experienced by his youth. As a child, he suffered from nightmares and also was a victim of bullying throughout his years in school. "In life, you come across things that are scary, and that never ends." Understanding that fear can be related to countless causes in individuals' lives, he wants to use this song to uplift listeners. "My hope is that this can be a source of relief when anybody is in that space."
Church Trap's fifth song is "God Drip" and is meant to provide listeners with confidence, "knowing that God is in us, and God is for us." Fedel's confidence is inspired by his suffering. "For me, going through a really deep depression, things that were hard. I think that in the middle of your darkest times is when you're the to hope." He said that during his most difficult days, he was able to hang on to the Gospel message, explaining,
"I believe we should place our value in what God has done for us on the cross. I know for a fact that when you're numb [and] callous, anxiety has you frozen, those are the times when you're not thinking straight, and you need something to grab." 
This post Fedel Gives us an Inside Look at His New EP, 'Church Trap' was seen first on Jam the Hype.
Black & Read All Over (Deluxe Edition) By Sareem Poems
Sareem Poems is not your typical rapper. While others in hip hop celebrate sinning, he raps about living righteously. You could almost call him a Christian rapper, given that he is Christian and a rapper, but that seems like too constraining a label, especially since "Christian rap" isn't exactly a quality cue. You could call him a conscious rapper, and that description fits better. However, he doesn't sound like a conscious rapper, or at least the mellow, bohemian variety. They all smoke pot, anyways. Sareem has a authoritative, commanding flow that is one part preacher, one part Chuck D., and one part Black Thought. It gives his rhyming a gravitas and a sense of anger. Even when he is rapping about love or other positive things, he still sounds slightly ticked off.
He's gone by Sharlock Poems performing with the LA Symphony (the rap group, not the orchestra group), and he released an album as Poems in 2008 on the Hip Hop Is Music label. "Black and Read All Over" originally came out in July of 2009, but it is being rereleased as a digital "Deluxe Addition" with instrumental versions of the songs and a handful of remixes.
Poems is a passionate, fierce rapper. He raps about things that are important to him, and does it in a commanding, uncompromising style. While he does sometimes show a lighter side, he doesn't really crack jokes, and he doesn't mess around. There's a trade off with this. One one hand, it's nice to hear a rapper addressing serious issues and taking a strong moral stance. However, Sareem sometimes comes off like a stern father upset with his son for hanging out with the wrong crowd. Just as your dad had reason for hating your stoner buddies, Poems has reason to be upset with a lot of things in his community. Still, there are times on the album when Sareem's raps feel uncomfortably like lectures. And this from someone who doesn't smoke pot and is generally in line with Poems' opinions. His style is equally unrelenting, and begins to feel limited in the course of the fourteen tracks.
Most of the production is handled by Theory Hazit, who offers vibrant beats that jump out of the speakers. Hazit is clearly not a fan of the "less is more" philosophy, and crams sounds together. "Come Get It," mixes ringing bells, a spaghetti western whistle, and a chugging beat; "Hard Labor" layers wailing ograns over booming drums with some background noise for good measure;  and "Shake It Up" works a loop for all it's worth. Done well, Hazit's beats are energized, exciting, and loud. Hazit can also veer into noisy and cacophonous, and he doesn't always find harmony in the different samples and sounds he mashes together.
Hazit's work is contrasted with a few tracks produced by Oddisee, the D.C. beatsmith who worked on this year's excellent Diamond District album. Oddisee's beats are more soulful and restrained than Hazit's, and he demonstrates the value of a few carefully placed samples on "She's So So." His tracks provide a nice foil to Hazit's beats, and showcase why Oddisee is one of the best producers of the year.
RMG - Whole Team Winning Featuring Derek Minor, Canon, Byron Juane, & Tony Tillman
Whole Team Winning by Derek Minor and his label mates at Reflection Music Group, includes 12 anthemic, team-oriented hip-hop/trap songs perfect for sports placements. After the success of Derek's previous album Going Up, clients from the NBA, NFL, and NCAA requested an album that focused on themes like teamwork, training, and domination, specifically for their summer training camps. Tracks like "Who Gon Stop Us", and "Get Out The Way" are perfect examples of fulfilling that need. Lyrics focused on words like "we", "us", and "team" give this album its unique place in the sports world.
STREAM IT HERE
NF - The Search
This is not 'The Night We Called It A Day' part two. Whereas their first album was superb, but had a melancholic atmosphere running through it, 'Unique.' is more musically aggressive, mature and diverse. Lyrically, staple hip-hop topics are balanced by more in-depth and passionate subjects, while the lesser MCs last time round have improved their styles tenfold. My highlights are "Axe To Grind", which can be described as a God-ordained, Braveheart-esque war cry for the hip-hop generation, the raucous "Mechanical Advantage", where the manic energy of the beat threatens to overwhelm, but is handled with skill by each MC, and the strangely endearing "They Say", featuring a campfire-style guitar-led track that could have easily been turned into a cheesy Carman/KJ-52-lite youth group friendly song in the wrong hands, but becomes one of the wittiest, tongue-in-cheek tracks on the album. 
YP aka Young Paul Minute Vol.1'
P4MH (Pray For My Hood) "the Collection"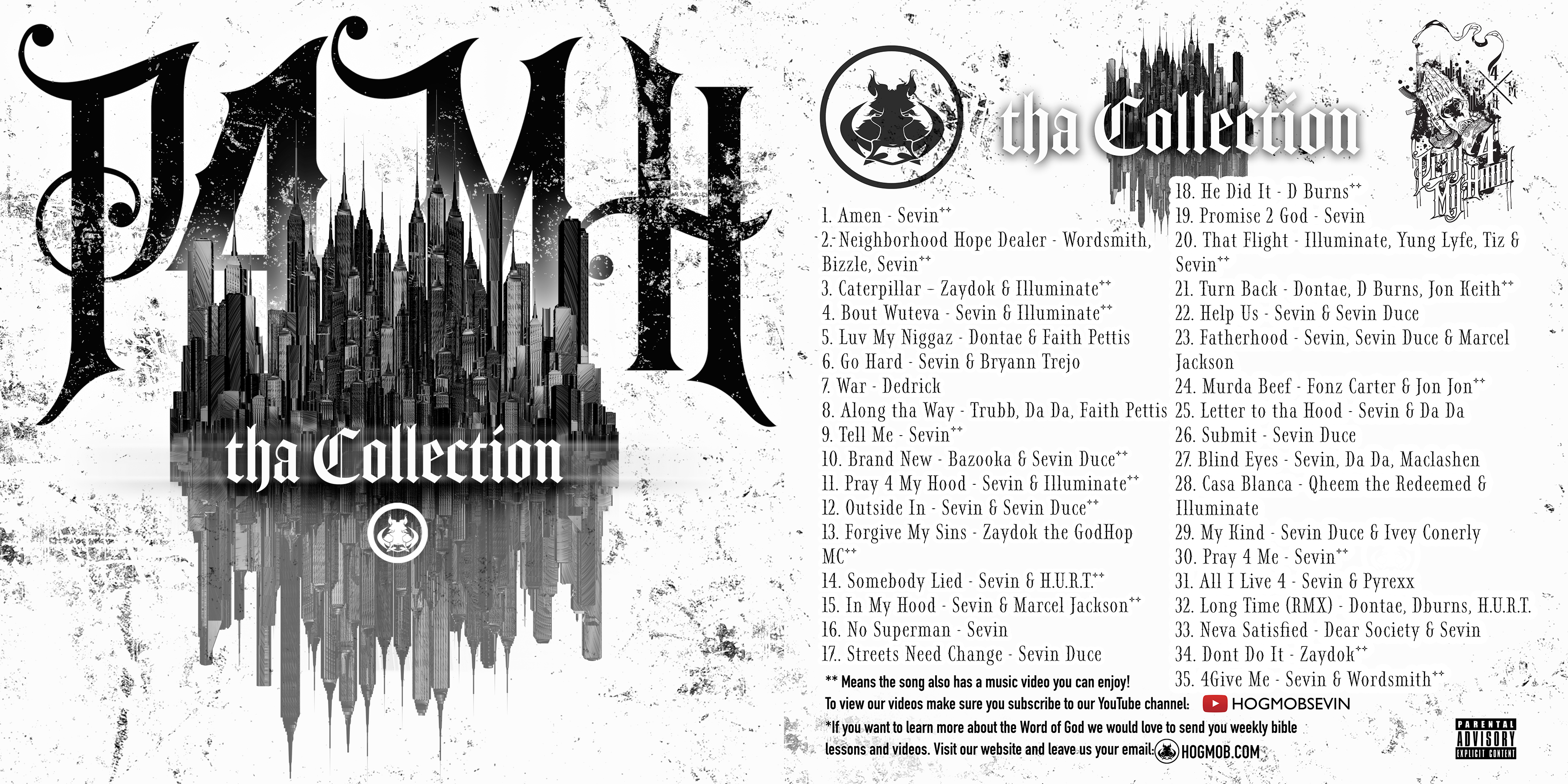 THIS ALBUM FEATURES SOME OF THE BEST STREET MINISTRY MUSIC WE'VE EVER CREATED ALONG WITH SOME OF OUR MOST TALENTED ARTISTS... ENJOY OVER 30 FREE SONGS AS WELL AS EXCLUSIVE GOSPEL INFO AND MORE!!! PLEASE PASS THIS LINK ON TO OTHERS AND HELP SPREAD THE TRUTH WITH US! GO TO HOGMOB.COM FOR INFO ON HOW TO SUPPORT THE HOG MOB MOVEMENT!