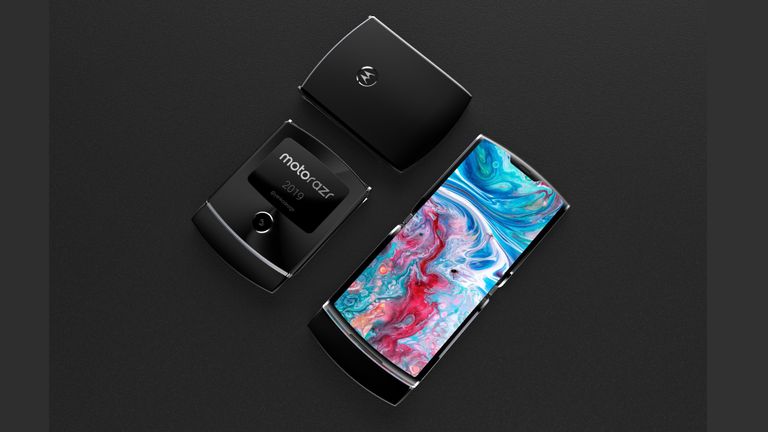 Motorola took to stage today to announce the reinvented Motorola Razr. The phone builds on the same design language that made the original Razr V3 an iconic phone. This time around, the new Razr is a foldable flip phone!
Let's talk displays. There are two!
The most eye-catching aspect of the hardware is the industrial design. A sharp contrast to the phone-to-tablet transition that defines the Galaxy Fold, the Razr has been engineered for portability. The phone packs a 6.2-inch foldable pOLED  display that folds down into a compact clamshell design. Motorola has managed to keep the phone true to the dimensions of the original design by using a 21:9 aspect ratio on the display.
Elsewhere, you will find a 2.7-inch OLED Quick View display that can be used for glancing at notifications, responding to texts or emails, completing Google Pay transactions, and calling up Google Assistant. Content from the outer display seamlessly transitions to the full size display when you unfold the Razr — an important feature for any foldable.
Decidedly mid-range specs
Powering the Motorola Razr is a somewhat anaemic Snapdragon 710 chipset paired with 6GB of RAM. For a cutting edge smartphone, this is bound to be a bit of a downer. Regardless, combined with Motorola's clean build of Android, the phone should be reasonably speedy to use. The 2,510mAh battery on the Razr is even smaller than the unit on the much maligned Pixel 4, but the lower-end specs might just help it eke out a full day of use. We'll just have to wait till we get our hands on a unit to test it out for ourselves.
The phone sports a 16MP camera on the outside edge, and you can use it with the Quick View display for capturing selfies. On the inside is a 5MP shooter that serves as a front-facing camera for video calls or anything else you might want to.
Interestingly, the Razr only supports the eSIM standard. Beyond that though, the Motorola Razr is a fairly standard smartphone with splash resistance (no official IP rating), support for NFC, USB-C, and 15W fast charging. There's no headphone jack on the Razr, but there is a front-facing fingerprint sensor on the bottom of the phone's "chin."
Buy it in January 2020
The phone goes on sale in the US starting January 2020. Unlocked, the phone will cost a steep $1,499, but you can pre-order the phone on Verizon in December where you can get your hands on it for $62.49 a month. Europe gets its hands on the Motorola Razr sometime in December, and the phone will eventually make its way to Latin America, Asia, and Australia.