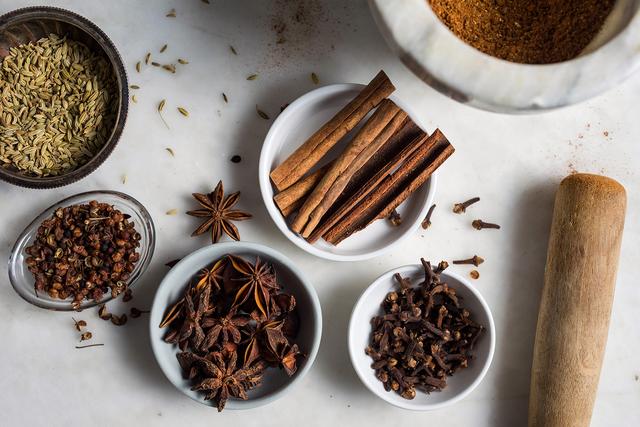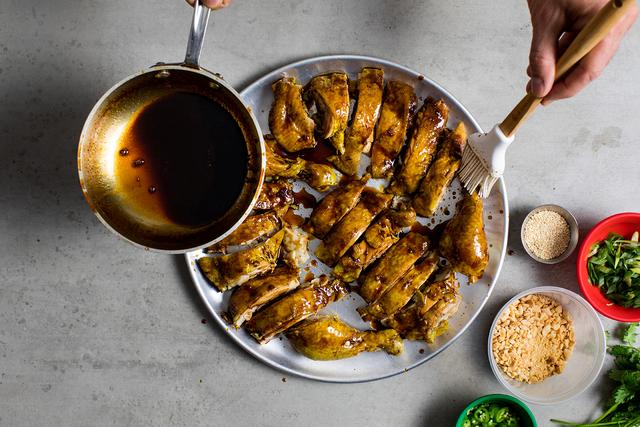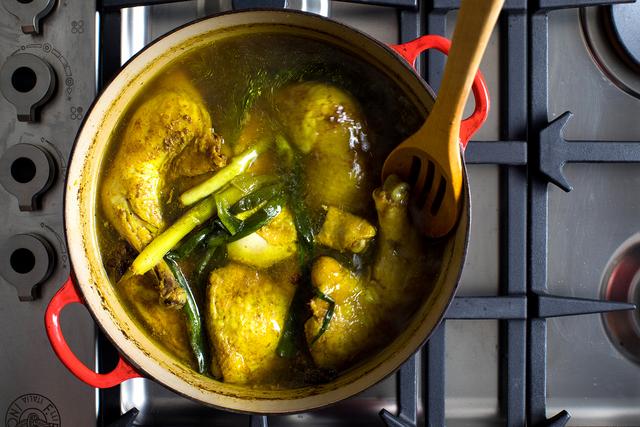 Painted with a savory soy-and-sesame glaze and showered with chopped peanuts, cilantro and chiles, this cold chicken is perfect for a picnic, light lunch or summer supper. In warm weather, cold sesame chicken is especially welcome.
—
RECIPE:
Cold Sesame Chicken
Time: 1 hour, plus chilling
Yield: 6 to 8 servings
Ingredients:
For the chicken:
6 bone-in chicken legs, drumettes or boneless thighs (about 4 pounds)
Kosher salt
1 tablespoon five-spice powder
2 whole scallions
1 (2-inch) piece ginger, cut into 4 thick slices
2 star anise pods
1 teaspoon ground turmeric
For the glaze:
3 tablespoons soy sauce
2 tablespoons sugar
1/2 teaspoon ground cayenne
1/2 teaspoon grated garlic
1 tablespoon toasted sesame oil
1/2 teaspoon grated ginger
For the garnish:
1 tablespoon toasted sesame seeds
2 tablespoons crushed roasted, unsalted peanuts
1 or 2 thinly sliced serrano chiles (optional)
Cilantro sprigs
3 or 4 scallions, thinly sliced
Tender mustard greens or lettuce leaves (optional)
Preparation:
1. Season chicken with salt and sprinkle with five-spice powder, rubbing seasoning into the flesh.
2. Transfer chicken to a soup pot or Dutch oven. Add 4 to 6 cups water, just to cover. Bring to a boil over high heat, then reduce heat to a bare simmer. Add scallions, ginger slices, star anise and turmeric. Simmer very gently until tender, about 45 minutes.
3. Remove chicken to cool on a baking sheet. (For faster cooling, submerge chicken in ice water.) Reserve 1/2 cup cooking liquid.
4. Make the glaze: Put soy sauce, sugar, cayenne, garlic, toasted sesame oil, ginger and 1/2 cup cooking liquid in a shallow saucepan or small skillet over medium-high heat. Simmer rapidly until thickened, about 5 minutes. Set aside.
5. Chop bone-in chicken into 1-inch chunks with a sharp cleaver or large chef's knife. (Remove bones before chopping, if preferred. If using drumettes or boneless thighs, leave whole.) Arrange chicken on a serving platter.
6. Brush glaze onto the meat. Sprinkle with sesame seeds and peanuts. Add chiles (if using), cilantro and scallions. Surround with mustard greens or lettuce leaves, if using. Serve chilled or at room temperature.