Maybe, just maybe, Jon Gruden hasn't lost his mind. Instead, a mad genius seemed to emerge during his first game as a head coach since the 2008 campaign, only to be ruined by the misguided play of quarterback Derek Carr. 
The Oakland Raiders are far from perfect. Monday's 33-13 loss to the Los Angeles Rams at Oakland-Alameda County Coliseum said as much. But Gruden's squad proved to be far more competitive than expected and didn't look like a complete disaster.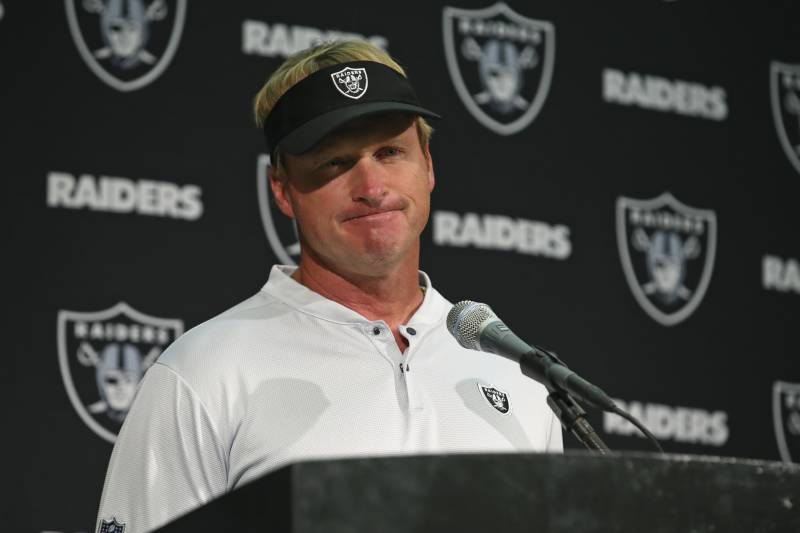 Ben Margot/Associated Press
During the first half, Oakland looked like a completely different team from the squad that finished 5-11 a year ago. 
Gruden's touch at play-calling didn't seem to fade, either. The coach allowed his extremely talented offensive line to take over by implementing a physical, downhill rushing attack which further accentuated Marshawn Lynch and Beast Mode took over to score the game's initial touchdown with a Juggernaut-like determination: 
The Raiders offensive line went toe-to-toe with the Rams defensive front and didn't blink despite staring at Aaron Donald, Ndamukong Suh and Michael Brockers. Los Angeles managed one sack, and Donald didn't even register a quarterback hit. 
The gameplan worked for the first 30 minutes. Gruden utilized tempo, spread looks and misdirection to complement his traditional West Coast passing attack. Getting the ball into playmaker's hands served as the primary goal. 

In one area, the Raiders became wildly successful. Tight end Jared Cook—one of 15 players on the roster at least 30 years old—set or tied career-highs with nine receptions for 180 yards. Cook proved to be too much for the Rams' safeties and linebackers to handle. 
Also, the early portions of the game saw Carr get the ball out of his hand quickly and decisively. 

Oakland led 13-10 going into the third quarter and everything started to crumble. The deficiencies still found in the Raiders roster began to show.  
Bruce Irvin and Co. generated one sack and another quarterback hit. That's it. Jared Goff had all night to throw, and the only sack came from the quarterback drifting backward into Irvin after holding the ball too long. The rookie triumvirate of Maurice Hurst, P.J. Hall and Arden Key made little to no impact. The lack of a pass-rush will likely haunt the Raiders throughout the season. 
Even so, Carr's disappointing performance is the most disheartening aspect of the Raiders' loss. Raiders owner Mark Davis made Carr a $125 million quarterback this offseason and his play didn't come close to reaching his worth.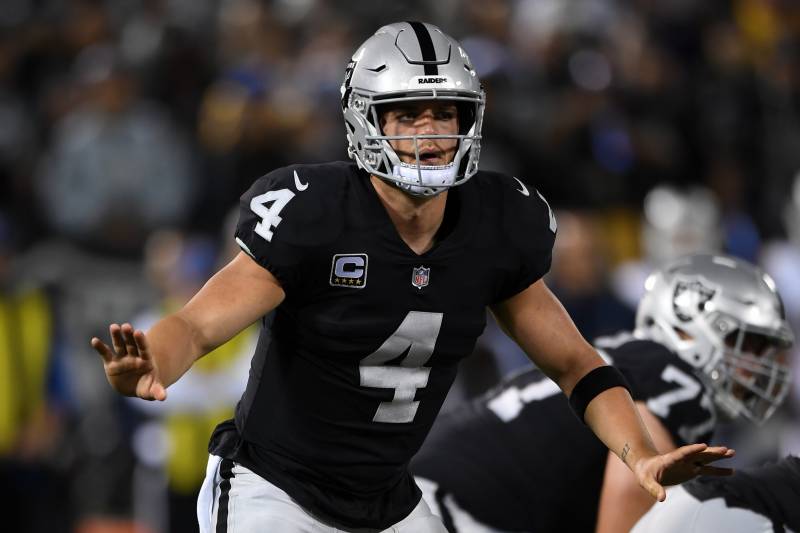 Thearon W. Henderson/Getty Images
Carr managed 303 passing yards yet barely acknowledged his weapons at wide receiver. Amari Cooper, Jordy Nelson and Seth Roberts combined to make five catches for 43 yards. 
"We called their numbers," Gruden said after the game, per the San Jose Mercury News' Matt Schneidman. "We tried."