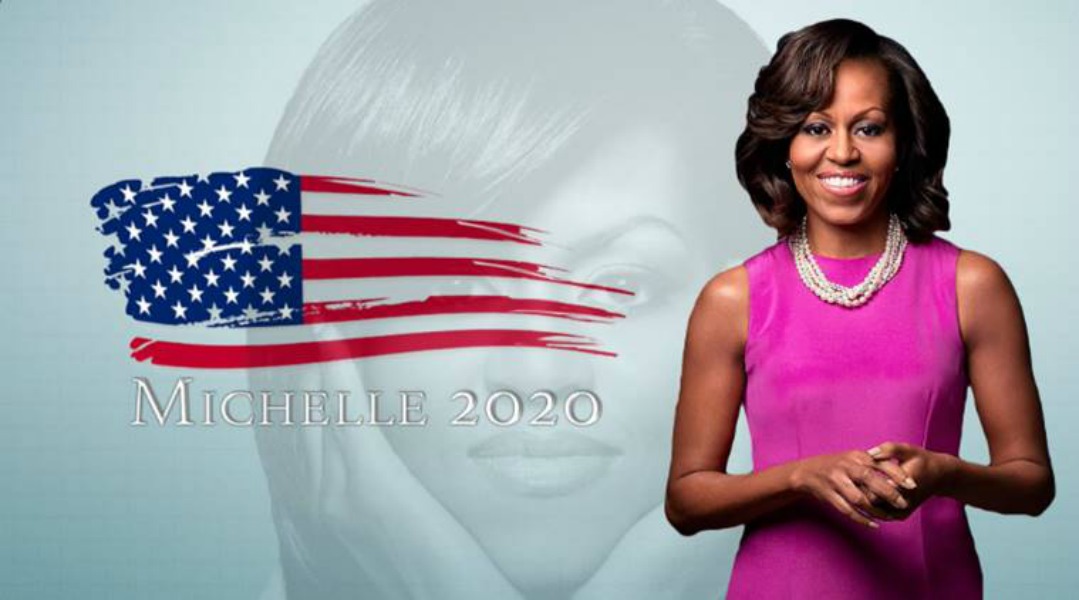 You may say that's fantasy and that Michelle Obama isn't interested. I say don't dismiss the possibility. The political climate is such that very powerful and influential figures will appeal to her that the country needs her to step forth and serve in this "desperate time."
7 compelling reasons
1. President Trump can convincingly defeat any of the current candidates who come across as angry and somewhat crazy. Michelle Obama would be a formidable opponent.
2. She's the one who supposedly can unite a divided party and protect her husband's legacy, prevent the dismantling of his policies and place liberal justices on the Supreme Court.
3. She's an attractive, charismatic and articulate former first lady who is a political celebrity worldwide, enjoying rock-star status. She recently was named "The Most Admired Woman in the World" by YouGov, a market research firm. Queen Elizabeth came in fourth, Melania Trump 19th.
4. Michelle is a youthful 55-year-old, educated, liberal, black woman who appeals to the overwhelming majority of Democratic demographic groups. After Hillary Clinton's two failures as a presidential candidate, scores long for a viable female candidate enthusiastically supported by Obama fans, liberals, minorities, moms, working women, the media, Hollywood, sports figures, anti-Trumpers and young people, especially millennials.
With his whitened teeth, hair plugs and facial makeover, front-runner Joe Biden tries to appear young but is almost 77, stumbling and has lots of baggage when decoupled from former President Obama.
5. She has strong respect and name recognition as evidenced by her memoir, "Becoming," set to be the bestselling memoir in history. It sold over 10 million copies worldwide; 1.4 million in its first week! Her glowing picture is on books like "Go High: The Unstoppable Presence and Poise of Michelle Obama" and covers of magazines like Oprah Winfrey's "O," which had her as the most prominent one under the headline, "Most Successful Women."
6. She draws large crowds and followers: 12.2 million on Twitter; packed arenas and auditoriums with sellout audiences ($497-$1,400 per ticket) for her "A Conversation with Michelle Obama" tour that targeted key electoral vote states (coincidence?); was featured on the Grammys (no coincidence); and, when her portrait was put up at the Smithsonian National Portrait Gallery it drew 1 million more visitors in 2018.
7. She has experience and demonstrated leadership in the White House as an adviser to the president; worked as an attorney and university administrator; initiated a global effort to keep young girls in school; coordinated the "When We All Vote" effort to mobilize voters in the last major election; and, partners with her husband to produce Netflix programs.
Learn to discern
If Michelle Obama gets the nomination to run against Donald Trump in 2020, discernment will be critical for Americans. A discerning citizen who identifies as a Christian or conservative must be persuaded to back a candidate who embraces a platform supporting a biblical worldview. What issues do the candidates support and what issues do they oppose?
The Democratic platform states clearly their unreserved support for numerous policies contrary to scripture and undermining the Judeo-Christian values upon which America was founded. To name just a few: unrestricted, taxpayer-funded abortion on demand until birth; implementation of the entire LGBTQ agenda and its propagation in schools; "open borders," allowing any lawbreaking immigrant entrance into America along with full access to taxpayer-supported medical care and entitlements; homosexual "marriage"; the deceptively worded "Equality Act," designated "the most dangerous attack on religious freedom in America's history" by Liberty Counsel legal ministry leader Mat Staver; plus other "progressive," socialist, secular positions intended to continue what Barack Obama called the "fundamental transformation of America."
Here's the deal: Former first lady Michelle Obama has not been in the shadows since departing the White House, but through political activities, speaking engagements, writing and networking with high-profile, influential people in the "shadow government," she stays active a short distance from the White House where she'd probably like to again take up residence.
A few years ago, who would've believed a business tycoon and reality show host would pursue, let alone win, the presidency? Jesus told us to "watch and pray" (Luke 21:36) so we are awake, on guard and prepared … for what may unfold before our eyes.
Written Larry Tomczak
Official website; https://twitter.com/LarryTomczak