How is this possible?
I don't blame you for a second if you think this photo of Zion Williamson is fake.
Duke Basketball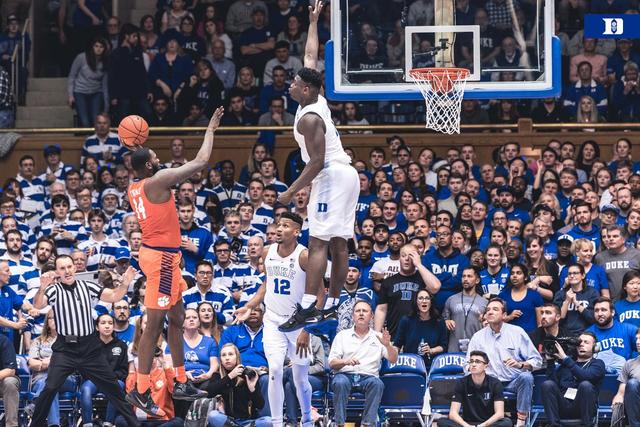 Zion has the cheat codes. @ZionW32
This isn't just a case of photographing a perfectly-timed block attempt, it's really everything that adds to it. Firstly there's the obvious, Zion's hand is a solid two FEET above the rim, but really there's so much more to appreciate about this photo that you might not notice on first glance.
That Clemson player? He's not small.

 

That is 6'9" forward Elijah Thomas going up for the shot on Zion. He weighs 245 pounds. He is objectively a very big dude. This isn't a case of Yao Ming standing next to Muggsy Bogues, and yet he is still utterly dwarfed by Williamson.
Backboards might need to be redesigned for Zion.

 

See that coping around the bottom of the backboard? It's there to stop players hurting themselves, should they somehow manage to get their heads at backboard level. Zion is about 4 inches from exceeding that coping on the side of the backboard. Scoff all you want, but remember that the entire concept of basketball goals needed to be reworked after Shaq showed a propensity for bringing them down.
Pour one out for these guys, who were watching the ref and not the block.