La Taqueria's Carnitas.


To make the carnitas, pork shoulder is first simmered until tender in water with aromatics like onions, celery, bay leaves and thyme, then placed in a low temp oven and roasted in milk and its own drippings until caramelized and crispy. To serve, the meat is then griddled and chopped to order.
The carnitas are well worth standing in line for, but if you're not in the mood for fighting for a table, you can also try making them at home. Whether you serve them in a taco or burrito — dorado-style, of course — that's entirely up to you.
Sarah Fritsche is a San Francisco Chronicle staff writer. Email: sfritsche@sfchronicle.com. Twitter/Instagram: @foodcentric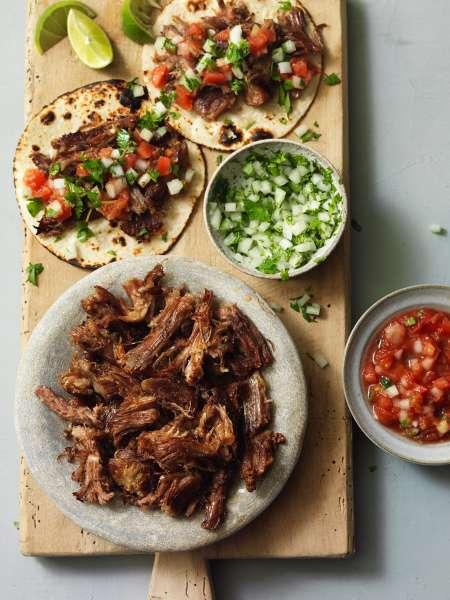 La Taqueria's carnitas
Photo: John Lee / Special to The Chronicle
La Taqueria's Carnitas
Serves 6
The carnitas
1 boneless pork shoulder or butt, about 4 to 5 pounds
2 onions, peeled and quartered
4 stalks celery (including leaves), roughly chopped
4 cloves garlic, peeled
2 dried bay leaves
2 teaspoons dried thyme
1 teaspoon kosher salt, plus more to taste
½ cup whole milk
To serve
Warm corn tortillas
Diced onions
Chopped fresh cilantro
Your favorite salsa
Lime wedges
Instructions: Rinse the pork and place in a 6- to 8-quart pan. Add the onions, celery, garlic, bay leaves, thyme, 1 teaspoon salt, and enough water to cover meat, about 2½ to 3½ quarts.
Bring to a boil over high heat. Reduce heat, cover, and simmer until the meat is very tender, about 2½ to 3 hours.
Preheat oven to 325 degrees.
Use slotted spoons to transfer the pork to a 9- by 13-inch pan; reserve cooking liquid. Using 2 forks pull the meat into large chunks and pour milk over meat. Bake pork until drippings are browned, about 1 hour, stirring and scraping pan occasionally.
Meanwhile, pour the reserved liquid through a strainer into a bowl. Skim and discard fat. Return juices to pan and boil over high heat until reduced to 2 cups, about 45 minutes to 1 hour.
Tricks of the trade
Fat and fabulous: The Jara family recommends selecting pork with the as much fat marbling as possible, which when rendered while roasting will result in moist and crisp carnitas.
More crispy tips: It doesn't seem like much, but the sugars and proteins in the 1/2 cup of milk that's poured over the milk prior to roasting will also aid in creating caramelized, crispy carnitas. For the final stretch of cooking, shredding the meat into smaller pieces and cooking them in their drippings, along with the reduced cooking liquid create even more caramelized crunchy bits, as well as intensify the flavor of the finished pork.
The secret's out: Much like In-N-Out, La Taq's legion of fans are well-versed in the variety of ways they can gussy-up their order with off-menu requests. At home, you can easily imitate the taqueria's dorado-style tacos by griddling a corn tortilla in vegetable oil until crisp and lightly browned, then sprinkling a bit of Monterey jack cheese topping off with a second tortilla. Heat until the cheese is melty and the second tortilla is warmed through, then load up the crispy side with carnitas.
When the pork drippings are browned, add 1 cup of the reduced juices and stir meat, breaking into smaller pieces.
Roast until the juices evaporate and the drippings brown, stirring occasionally, about 25 minutes. Repeat with the rest of the juices, cooking until the edges of the pork are crisp and browned, 25 to 30 minutes longer. Season to taste with salt.
Serve the carnitas with warm corn tortillas, diced onions, chopped cilantro, a drizzle of salsa and a squeeze of lime juice.