1. Choose a Base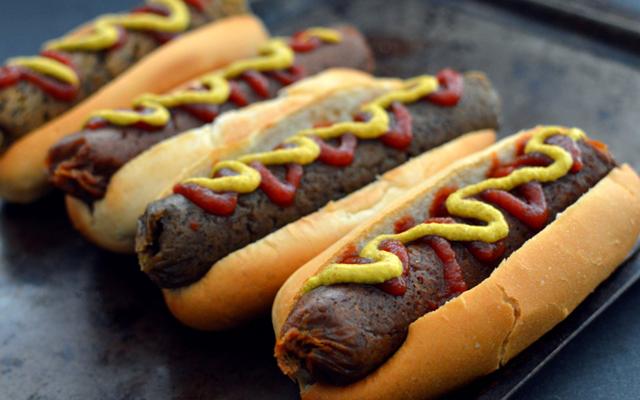 The first step in making your own vegan sausage is deciding what you want to make them with. Just as you can make burgers from a large variety of vegetables, you have lots of choices from which to make sausages. They can be made entirely from seitan, as in these Seitan Sausages, tofu, texturized vegetable protein (TVP) or a combination of any of them. Tofu can also be blended with beans or the sausages can be made completely from beans – white beans, pinto beans or my choice, black-eyed peas. Other choices include lentils, beets, eggplant and even nuts. The key to choosing a base is dependent on the flavor profile you want. Do you want the strong, meaty taste of lentils, the sweetness of beets or the blank canvas you get from pinto beans or black-eyed peas? Experiment with different ingredients and different combinations until you find the one you love best.
2. Spice Blends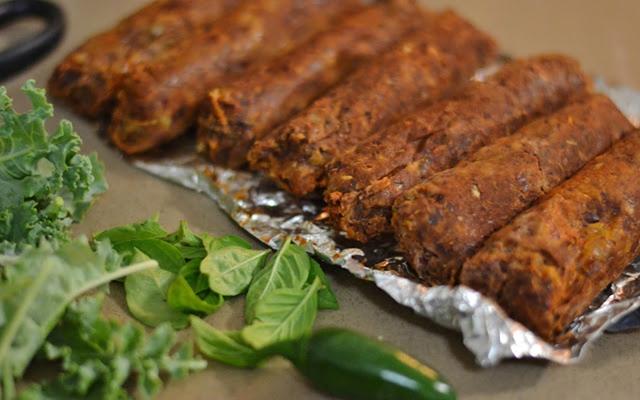 Once you choose the base, you need to decide on the spice blend for your sausages. Some people like sage, others like maple and still others (including me) prefer spicy Spanish and Italian flavors. To make sage sausages (similar to breakfast sausages), combine dried sage, allspice, marjoram, red pepper flakes, fennel, salt, pepper, and brown sugar. For maple sausage, use dried sage, dry mustard, fennel, salt, pepper and real maple syrup. You can also add in pieces of apple by pulsing the sausage mixture in a food processor. For the spicy kick of Mexican chorizo sausage, combine ground cumin, ancho chile powder, cayenne, onion, paprika, oregano, salt, pepper and red wine vinegar. Andouille sausage flavors include garlic, salt, pepper, cayenne, chile powder, thyme, allspice, paprika, mace, bay and sage. My blend for spicy Italian sausage combines garlic, fennel, paprika, smoked paprika, red pepper flakes, oregano, salt, pepper, and allspice. And these Red Bean Sausages use garlic powder, fennel, sweet and smoked paprika, oregano, sage, thyme, allspice, and chipotle powder. Again, experiment with different spice blends and learn which flavor profiles you like best.
3. Add Umami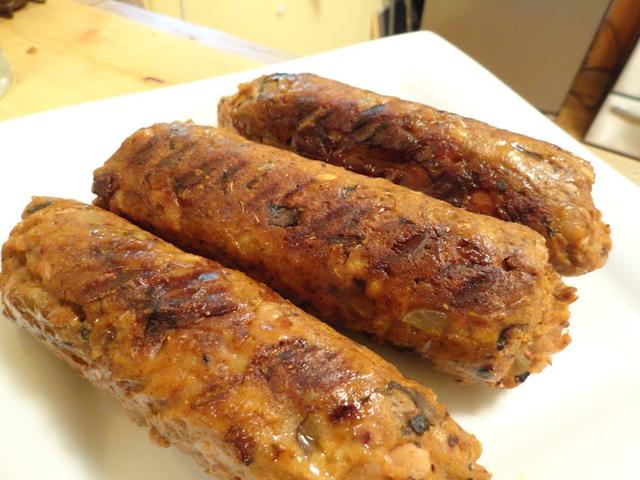 4. Binding and Chew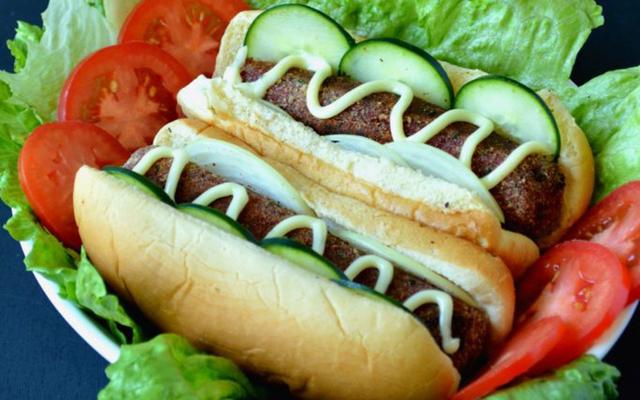 Now that we have added all this flavor and spice to our sausages, we need to do something to make them hold together and have that dense texture, that "bite" that you expect from a sausage. Any type of flour can be used to the binding and bread crumbs can also be used, as in these Spicy Veggie Dogs. I prefer brown rice flour since I make my sausages gluten-free. When I was perfecting my sausage recipe, I tried making them with brown rice but I found I preferred the texture I got from using flour. Vital wheat gluten is usually found in vegan sausage recipes.
It not only helps bind the ingredients when the strands of gluten form but it is what gives the sausages their dense, chewy texture. For gluten-free sausages, the key to getting that firm texture is xanthan gum or guar gum. These gums are used as thickeners in baking and gravies and they provide the structure that would normally be provided by gluten. A bag of xanthan gum is a bit expensive, but a little bit goes a very long way, so it is well worth the investment.
5. Shape Them, Steam Them, and Store Them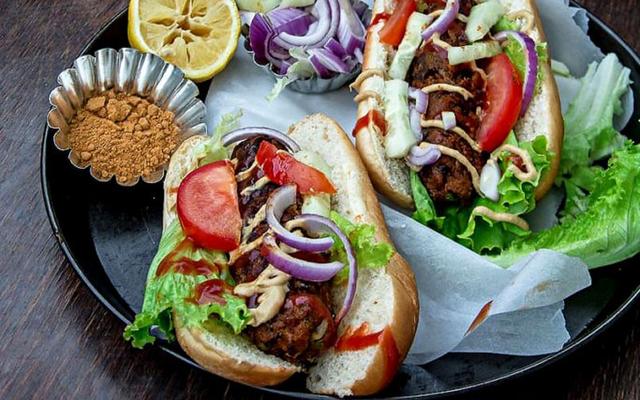 Steaming seems to be the best cooking method for achieving dense, firm sausages. Once you have your vegan sausage mixture well-combined, divide it into equal portions. Cut squares of parchment paper or aluminum foil (or both if you want the tight fit of the foil but don't want the foil touching the food) and place a portion of the sausage mixture on each square. Shape the mixture into a log, about 6-inches long and then roll it up in the parchment paper or foil. Twist the ends closed so the package looks like a candy wrapper. Repeat with the rest of the sausage mixture. Smooth out the shape of the packages and set aside. Set up a steamer basket over a pot of boiling water and lower the heat to a simmer. Place the sausages into the steamer basket and let steam for about 30 minutes.