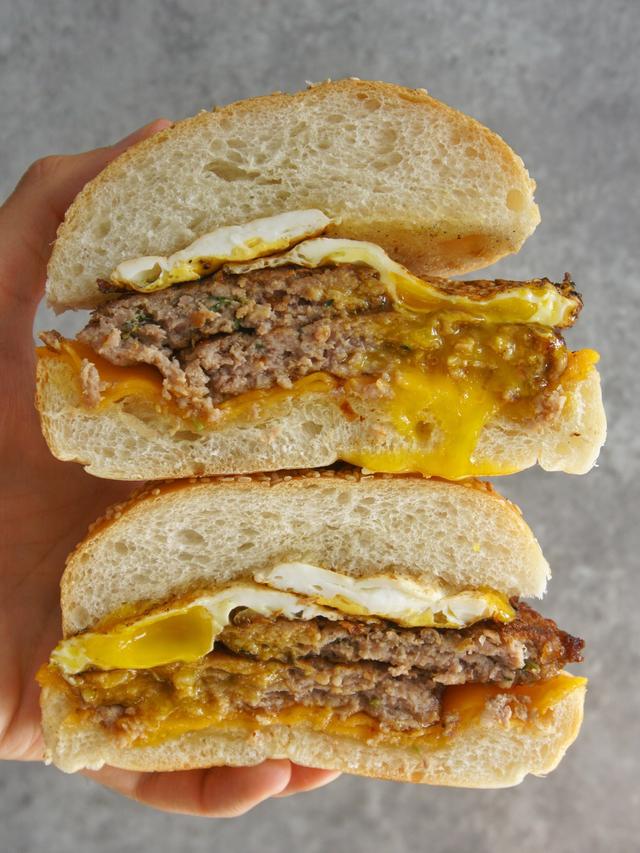 Bodega-Style Sausage, Egg and Cheese Sandwiches
Yield: 2 sandwiches
Prep Time: 15 minutes
Cook Time: 15 minutes
Total Time: 30 minutes
For the sausage
1 pound ground turkey
1 tablespoon thyme leaves, minced
2 teaspoons light brown sugar
1 1/2 teaspoons kosher salt
1 teaspoon ground fennel seeds, toasted and coarsely ground
1 teaspoon lemon zest
1/2 teaspoon red pepper flakes
For the sandwiches
2 kaiser rolls, sliced open
5 tablespoons butter, softened and divided
4 slices aged cheddar
1 tablespoon vegetable oil
4 eggs
Kosher salt and freshly black pepper, to taste
Directions
1. Make the sausage: In a medium bowl, mix all the sausage ingredients until well incorporated. Divide into 4 balls.
2. Make the sandwiches: Preheat the oven to 350 degrees Fahrenheit. On a sheet pan, line the kaiser rolls cut-side up and spread 1 tablespoon of butter on each half. Place two slices of cheddar on each bottom half and bake until the bread is lightly toasted and the cheese has melted, 4 to 5 minutes.
3. Meanwhile, heat the vegetable oil in a large skillet over medium-high heat. Add the portioned sausage to the pan, using your spatula to smash each into a 4-inch patty. Cook, flipping once, until golden, 2 minutes per side. Transfer to a plate.
4. Add the remaining 1 tablespoon of butter to the pan and crack the 4 eggs into it. Season with salt and pepper, then cook, flipping once, until over easy, 1 to 2 minutes per side.
5. Layer two sausage patties over the cheese on both kaiser rolls, then top each with two eggs. Place the top halves over each sandwich, then wrap in parchment paper to let steam for 2 minutes. Slice and serve.